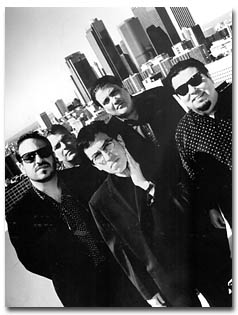 Courtesy Photo
Los Lobos performs Sunday at Centennial Hall. The group formed in East Los Angeles in 1973.
By Adam Pugh
---
ARIZONA DAILY WILDCAT
Wednesday August 22, 2001 |
Season's performers hail from faraway nations
A world of music is coming to town for a showcase of talents that range from African blues all the way to Japanese drumming.
This season, UA is sponsoring events that shy away from the mainstream of music. Instead, it is presenting a wide range of music targeted toward a more mature and eclectic audience.
"We wanted to put more effort into really shaking things up with the kind of music we bring," said Mark Rasdorf, Director of Communications for UAPresents. "Our director, Ken Foster, became increasingly aware of what kind of music was out there and wanted to help people realize that exciting art is happening all over the world."
Starting the year off will be a group that is no stranger to Tucson - Los Lobos, bringing its Grammy Award-winning music to Centennial Hall Sunday. Formed in 1973, the band's vision has been to express its musical message to as many people as possible. Best known for its Latin American folk songs that were featured on the soundtrack to the '80s film "La Bamba," Los Lobos is the premier American roots band touring today.
Following this Latin celebration will be the Lincoln Center Jazz Orchestra that features world-renowned jazz trumpet player Wynton Marsalis. Marsalis will perform classics from such jazz greats as Count Basie, Duke Ellington and Louis Armstrong. Performing together for 10 years, the jazz group features 15 prominent solo artists from different parts of the world. The orchestra performs Sept. 30.
Known by her fans as the barefoot diva, Cesaria Evora brings her island roots to UA with a style of music known as Morna. Morna is similar to American blues, and Evora has been compared vocally to such great singers as Billie Holiday and Edith Piaf. Originating from the Cape Verde Islands off the coast of Senegal, Evora will bring her sound to Tucson Oct. 7.
The percussion group Yamato from Japan will throw rhythm into overdrive on Oct. 18. Yamato has performed more than 700 times around the world, using larger-than-life kettle and Wadaiko drums and tambours. The rhythmic pounding of the drums is said to link the heart and souls of the drummers to the beats, which is then expressed to the audience. Their performances are loud, intense and very entertaining.
The Stimmen World Voices Festival will finish off the year, featuring six singers from around the globe. The festival is an annual event that usually takes place in LorrŠch Germany, but this year the festival is a touring event and will stop at Centennial Hall. Performers include Sudha Ragunathan, a prominent singer from India, and Corin Curschellas from Switzerland. Curschellas blends hip-hop with French rap and yodeling. The mixture of such an array of voices is sure to be an event to remember.
"Tucson is very receptive to artists that they have never heard of," Rasdorf said. "Basically we can try almost anything and we will have an audience for it."