Math tutoring center to close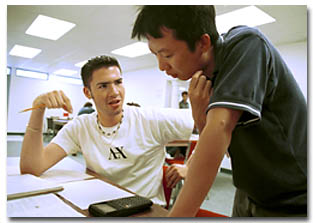 BEN DAVIDOFF
Math graduate student Chi ho Wong (right) assists undeclared freshman Eduardo Silva-Ruiz with his homework at the Mathematics Tutoring Center yesterday. The center will close Oct. 15 due to nearby construction that makes it difficult to enter the building.
Tuesday October 2, 2001
Construction makes location inconvenient
The UA's math tutoring lab will close Oct. 15 because of its proximity to construction of a new parking garage on East Sixth Street, mathematics department officials said.
The lab - which offers extra help for students who cannot attend their instructor's office hours - operates from the former Marathon Restaurant, 1134 E. Sixth St.
Officials said it would take a long time for students to get around the fence.
"To get over to the tutoring center would take anywhere from 15 to 20 minutes," said Deirdre Smith, adjunct lecturer for the mathematics department.
Smith said a walk to the tutoring center from the Mathematics building, 617 N. Santa Rita Ave., normally takes five minutes.
"If it does close down, it's because the administration has made it impossible to run this service," she said.
Smith said she didn't think anybody would use the lab if it were far from campus.
Daniel Madden, associate professor of mathematics, said the new fence would force people to take either North Park Avenue or North Highland Avenue to reach the center.
"When the new fence goes up, we probably won't have any volunteers," Madden said. "Our instructors would spend too much time walking around, and they already have office hours."
Madden said approximately 175 students use the center each week for extra help.
One student said his math instructor's office hours are difficult to attend.
"My math teacher holds only one hour and every time I go, it's packed," said Adrian Sandoval, an aerospace engineering freshman.
Madden said the department will not open another location because of the scarcity of space surrounding the Mathematics building.
"Room Scheduling has worked very hard for us but we'd have the same problem if we relocated to somewhere north of (East) Speedway (Boulevard)," he said.
Madden said the department hopes to open a tutoring center in the Integrated Learning Center when it opens.
Madden said the existing center opened 20 years ago. It began in a trailer set outside the math building but moved several times as the university changed.
"We had to keep moving as the university kept knocking buildings down," he said.