Volleyball player suspended for behavioral issues
By Brian Penso
---
ARIZONA DAILY WILDCAT
Tuesday October 2, 2001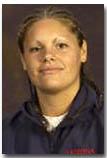 Shannon Torregrosa
Arizona head volleyball coach David Rubio announced yesterday junior outside hitter Shannon Torregrosa will be suspended for an indefinite amount of time due to what he called conduct detrimental to the team.
Rubio said the suspension was due to behavioral issues that have had a negative effect on the team.
"Shannon is indefinitely suspended," Rubio said. "It is hard to say what her future might hold for the program. Her behavior is the reason why she has put herself in this position."
Torregrosa was unavailable for comment.
Replacing Torregrosa in the starting lineup will be sophomore outside hitter Christina Frost.
Frost will have big shoes to fill, as Torregrosa leads the team in attempts with 274 and is second on the team in kills with 108.
Rubio said he is confident Frost can step in and answer the challenge.
"I have no problem with Christina stepping in," Rubio said. "She is a three-year player in the program, and I have a lot of confidence in her ability. To be honest, I do not know how much of a void it is going to be. She brings different elements to the team. She isn't as physical, but she can provide other things that Shannon can't."
Frost has only played in 12 games this season, but junior outside hitter Lisa Rutledge said Frost's work ethic will help her adjust to being a full-time player.
"We are definitely a strong, deep team that will overcome Shannon's suspension," Rutledge said. "Christina works hard every day and she will do a great job filling the role left by Shannon."
During the team's recent road trip to Los Angeles, Rubio said he was pleased with Torregrosa's play and noted that the team's success had a lot to do with her play.
"I think that she is going through the learning process," Rubio said. "Being in pressure situations are wonderful for her. She is learning how to make the right decisions on the court. We will live with that because she will be a major player for us down the road this season."
All-American setter Dana Burkholder agreed with Rubio.
"I think she is playing great," Burkholder said. "I have all of the respect for her. She is doing an incredible job for us."
What a difference two days makes.
With the team having the day off, Rubio said only time will tell how the UA offense will react to the suspension of Torregrosa.
"I don't know how this will affect our offense," Rubio said. "As soon as we practice, we will see how things unfold offensively. We will just go from there."
With the suspension of Torregrosa, freshman outside hitter Kathy Garbacz will suit up for the first time all season, and Rubio said that freshman outside hitter Kellie Burton will see some playing time as well.
With ASU and No.4 USC on the Wildcats' schedule this weekend, Rubio said he is confident his team will respond and overcome the adversity they will face with the loss of Torregrosa.
"The team still has the same goal and it does not matter who is on the floor for us," Rubio said. "Regardless of the situation, we are going to go out there and try to win every time we step on the court."