Wildcats' winning streak ends with weekend sweep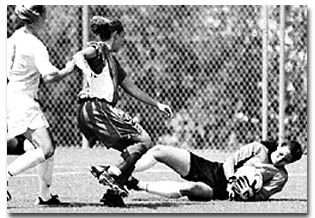 file photo
UA senior goalkeeper Shannon Monti (on ground) blocks a shot earlier this season. Monti recorded 10 saves over UA's two losses this weekend.
By David Stevenson
---
ARIZONA DAILY WILDCAT
Tuesday October 2, 2001
UA scores only once against BYU, Utah
The Arizona soccer team went to Utah last weekend on a high note with a four-game unbeaten streak, but left on a low note after losing games to Brigham Young and Utah.
On Sunday, the Wildcats (3-3-1) could not overcome three goals in the first half by the Utes en route to a 4-1 loss.
The one-sided affair started when Utah (5-2) scored a goal in the 10th minute and again later in the half on a penalty kick. The Utes added their third goal of the frame on a lob into Arizona's penalty box that glanced off a UA player's head into the goal.
Freshman midfielder Vanessa Bailey scored the Wildcats' lone goal of the weekend in the 53rd minute. However, Arizona could not get any momentum on offense, as it was outshot 12-5 by the Utes.
"We can only rely on athleticism and potential as a crutch," UA head coach Kathy Klein said. "We need to capitalize on the opportunities we create."
On Friday night, Arizona suffered a 2-0 loss to BYU.
The Cougars (5-2-1) embarrassed the Wildcats, out-shooting them 20-7.
BYU's first goal came in the first half in the 29th minute. They later added a second off a penalty kick in the 51st minute.
Senior defenseman Cassidy Guinn is doubtful for practice this week with an ankle sprain that occurred five minutes into the BYU game. She also did not play against Utah.
With Guinn out, UA will need junior defensemen Naomi Chu, senior Shannon Harrelson and senior forward Christina Lorna to fill her role.
"That injury hurts us - now our role players must step up," Klein said. "We've seen them do it and it's time for them."
One bright spot for UA during the weekend was senior goalkeeper Shannon Monti, who had 10 saves over the two games.
"She had solid positioning, communicated well with her teammates and executed confidence," said Klein. "Shannon was the reason we kept (the game) close."
With 11 freshmen and seven sophomores on the roster, Klein said she wants them to learn from the high level of competition.
"Both were better than us so we need to focus on having a superior work ethic," she said. "We need to be more athletic with pressure and be better poised."