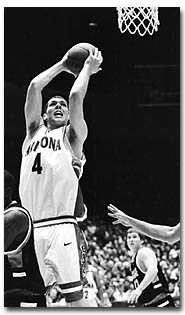 file photo
Junior forward Luke Walton attempts a layup last season against Oregon State in McKale Center. Walton said he looks forward to this season's difficult schedule.
By Jeff Lund
---
ARIZONA DAILY WILDCAT
Tuesday October 2, 2001
Wildcat fans will get a chance to catch their first glimpse of the 2001 UA basketball teams when "Midnight Madness" returns to McKale Center on Oct. 12.
The night will start with a women's volleyball game against Washington State at 7. Then the practices - which officially mark the first time NCAA teams can begin practicing for the upcoming season - begin at 10.
"I think it's a good tip-off," said UA associate men's basketball coach Jim Rosborough. "It's really good for the young kids. Our five freshmen will find it to be a lot of fun. (Freshman point guard) Will Bynum will dunk his head off."
James Francis, the marketing coordinator for the athletic department, said this year's event will be similar to last year's "Midnight Madness."
"It will be pretty much the same," Francis said. "There will be a lot of promotions. Like last year, there will be the $10,000 shoot-out, three-point contest and a slam-dunk contest. This year, both men's and women's teams will be involved."
Francis said the event, which will be broadcast on the Warner Brothers' Network and KRQ radio, will have a three-point contest for students before midnight and a player contest afterward, as well as a residence hall relay race in which a Wildcat player will coach each team.
Information about the student three-point contest can be obtained at the Student Recreation Center, 1400 E. Sixth St.
o o o
The UA men's basketball team will be tested when it opens its 2001-2002 campaign against one of last year's Final Four qualifiers, Maryland.
The game is part of the Coaches vs. Cancer IKON Classic in New York City Nov. 8-9 and will also feature Florida and Temple.
"The one good thing is there is no question in the kids' minds that every practice has to be productive," Rosborough said. "Maryland was in the Final Four last year and, win or lose, we have to play Temple or Florida. It gets the kids' attention."
It won't get any easier for UA after the tournament. Following the Coaches vs. Cancer IKON Classis, UA will head to Texas to take on the Longhorns Nov. 17 before their home opener, a matchup against Big 12 powerhouse Kansas, on Dec. 1.
"Every year, we play one of the toughest schedules around," said junior forward Luke Walton. "You look at the other teams in our conference, they play the same teams that we do, but we go further in the tournaments. The reason a lot of us came to this school was to play the best. Just because we're young doesn't mean we're going to fold."
The tough stretch does not end there.
Three days later, Arizona will take on Illinois at America West Arena in Phoenix as part of a doubleheader with Arizona State and Utah.
"Last year it became a good rivalry," Rosborough said of UA's games with Illinois. "This will be the fourth (game) in two years. They are a good team and are well coached."
Arizona went 2-1 against the Illini last season, including an 87-81 win in the Elite Eight of the NCAA Tournament.
"You don't look forward to playing (the Illini) because they're a tough and talented team," Walton said. "But you always want to play the best teams in the country."
The Wildcats then get a chance to avenge a loss in last season's John R. Wooden Tradition in Indianapolis, where they will take on Purdue.
The Boilermakers beat the No. 2 Wildcats 72-69 in the Tradition last season.
Arizona finishes its non-conference schedule with a game at Michigan State before opening up Pac-10 play on the road at Oregon State.
Rosborough said playing quality teams from numerous conferences should help UA in the NCAA tournament.
"We played three Big Ten teams last year, and it didn't seem to hurt us," he said. "You don't know who you are going to play in the tournament. Seeing people from different parts of the country is good for us."
The tough schedule will test the younger players' skill and the older players' leadership, Rosborough said.
"It's just brutal," Rosborough said. "It could be the most difficult (schedule) since I have been here. Luke, Ricky (Anderson) and Jason (Gardner) have been getting on the guys. We will have to be ready."