Women roll, men slide in cross country opener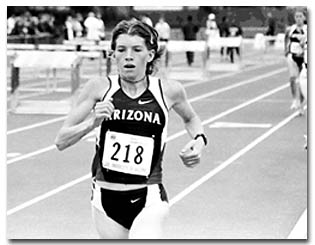 file photo
Senior Tara Chaplin runs away from the pack during a meet last season. Chaplin led the women's cross country team to third-place finish in this year's Roy Griak Invitational.
By Dan Komyati
---
ARIZONA DAILY WILDCAT
Tuesday October 2, 2001
Chaplin leads women with fourth place finish
It was a tale of two stories for the UA men's and women's cross country teams, as they opened their seasons at the Roy Griak Invitational over the weekend in Minneapolis, Minn.
While the women's team cruised to a third-place finish, their male counterparts struggled, slipping to 16th in the highly-competitive 36-team field.
Senior Tara Chaplin led the women, finishing just 30 seconds off of the pace in the 6,000-meter event. Chaplin, the 2000 champion in the event, ran the course in 20:42.5 - 18 seconds ahead of her winning pace from a time ago.
"The girls as a whole ran very well, and I am very happy with my performance," Chaplin said. "I ran faster than last year, so even though I didn't win I can't really be disappointed."
The Wildcat women scored 167 points in the event, finishing behind first-place Arizona State (109 points) and second-place Providence College (139).
Running in a close pack throughout the race, the six Wildcat women that ran the event a year ago all improved on their times.
Following Chaplin was sophomore Beth Hoge, who finished 24th (21:32.8) and senior Erin Doherty, who placed 29th (21:43.6).
Rounding out the top five Wildcat runners were senior Jennifer Burris, who finished 53rd (22:04.6), and junior Kim Bates, who finished 57th (22:08.0).
One of UA's top runners, senior Abby Peters, didn't even make the trip, opting instead to stay home to rest a pinched nerve in her hip.
UA head coach Dave Murray said he was impressed with his team's performance.
"Everyone ran faster than a year ago, so we were able to accomplish what we set out to do," Murray said. "We left Abby home to make sure that she's OK for the rest of the season, so I think that we are in pretty good shape."
The UA men's team didn't fare nearly as well.
Unlike the women, nearly every member of the men's team ran slower in the 8,000-meter event than they did last year in Minneapolis.
Leading their effort was junior Kyle Goklish, who finished 45th overall with a time of 24:55.7. Seniors Mike Cramer (25:04.3) and Tom Prindiville (25:07.0) followed him, finishing the course 57th and 66th, respectively.
Sophomore Mark Anderson completed his run 68th (25:08.3), while the final scoring runner for the Wildcats was sophomore Matt McInvale in 137th place (25:38.6).
"We didn't run well, and overall I'm very disappointed," Murray said of the effort put forth by his men's team. "We didn't get out real well, and a lot of kids were slower than last year.
"Kyle was very solid running as our No. 1, so I was real pleased with his performance."
Both teams will resume competition next weekend in Orono, Maine at the Murray Keatinge Invitational.