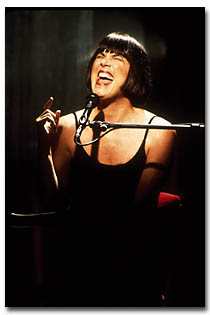 Photo courtesy of UApresents
Eve Ensler, creator of "The Vagina Monologues," performs one of the 18 monologues in the show. "Monologues" will show tonight through Oct. 15 at Nations Hall in the International Arts Center, 516 N. Fifth Ave.
By Lisa Lucas
---
ARIZONA DAILY WILDCAT
Tuesday October 2, 2001
Internationally known play 'The Vagina Monologues' shows this week at Nations Hall
A play about female genitalia has never been so appealing - and no, it is not porn.
"The Vagina Monologues," created by Eve Ensler in 1996, portrays the personal stories of a group of women through interviews about their experiences growing up with vaginas.
"The play explores the humor, power, pain, wisdom, outrage, mystery and excitement hidden in vaginas," a press release on the "Monologues" stated. "Having seen 'The Vagina Monologues,' no one woman or man will look at the world the same way again."
Geneva Carr, an actress in this year's tour of the "Monologues," said the show is not merely a play but a movement.
She said the show incorporates 18 monologues, each of which are acted out by one of the show's three performers. Of these three performers, Carr and Lisa Tharps are the season's two core actors.
The third performer varies each time the play changes location.
Carr added that this guest artist has first choice in which monologues she prefers to perform.
"(The core performers) pick up the slack," she said. "Our roles change every week."
Carr added that this constant switching of roles creates the effect of having an entirely new experience - for both the performers and the audience - even if the play is being performed or seen for a second, or even a third time.
"You hold the cards that you have," Carr said. "You know where you're going, but it leaves an improvisational field. It's as if three women are getting together in their living room, chatting."
She added that the guest artist has the greatest influence on the changing aspects of each performance.
"Every guest artist gives you a brand new show - that person really sets the tone," Carr said. "I feel like I've been in four different productions already."
This week's guest artist is Lisa Kron, a lesbian performance artist who brought her solo piece "2.5 Minute Ride" to the University of Arizona last March. Following Kron, from Oct. 9-14, Loretta Swit - who has appeared on several television sitcoms including "Ally McBeal" - will fill the guest spot.
Carr said she looks forward to working with Kron.
"I think she's so amazing - so unique," she said.
She added that both seeing and acting in the show has left her with a feeling of empowerment, leading her to feel that her life has potential.
"It is larger than life," Carr said. "(The play leaves audiences with) a sense of empowerment through the power of language - I think that is really important."
She added that Ensler's personal attributes - such as her supportive and unpretentious attitude - likely led to the power behind the words.
"(Ensler) has had such a rich life, and she's always growing," she said. "She was on 'Oprah' the other day (talking) about women and the power of words."
Carr added Ensler's generosity and support in her personal life extends to one of the goals of her show - to support both local and nationally based charities.
She said the show consistently promotes the efforts of V-Day - a national organization promoting the end to violence against women that generally holds events on Valentine's Day to develop awareness.
"A percentage of the profits go to the V-Day organization," Carr said. "(But we) raise money for local charities, wherever we are."