Minnesota state employees strike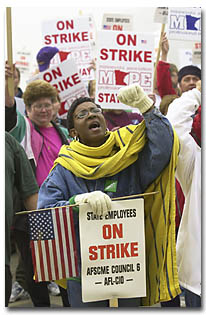 Associated Press
Lorita Powell, president of American Federation of State, County and Municipal Employees Local 3141, cheers with other striking state employees during a rally on the steps of the state Capitol in St. Paul, Minn. Nearly 28,000 Minnesota state employees began the strike yesterday morning, making it the largest strike in state history.
By Associated Press
---
ARIZONA DAILY WILDCAT
Tuesday October 2, 2001
ST. PAUL - Nearly 28,000 Minnesota state employees went on strike yesterday, brushing off suggestions that the walkout was ill-timed in light of the terrorist attacks and sagging economy.
Minnesota's two largest unions of state employees walked out because of pay and benefits in the first such strike in 20 years.
John Wodele, a spokesman for the governor, said there was no immediate indication of any major problems.
Among the workers affected were Capitol security guards, highway maintenance workers, tax collectors, clerical workers and parole and probation officers. State troopers and prison guards were not part of the walkout.
National Guardsmen were called up to work in veterans' homes, treatment centers and other institutions. Non-striking managers from various agencies were reassigned to help with food service, housekeeping and other basic needs, and hundreds of temporary workers were being hired.
The strike closed at least one branch of the office that issues driver's licenses. The Minnesota Zoo was also closed to the public. In addition, the Teamsters said their truck drivers would not cross the picket lines and deliver goods to state buildings.
Gov. Jesse Ventura said the strike - with economic uncertainty and the prospect of military action - came at an unfortunate time. "But be assured, we will not let this strike get in the way of doing what is necessary to see our way through these very difficult times," he said in a statement Sunday.
Carol Williams, a member of the Minnesota Association of Professional Employees, said
that was an unfair shot. "I think the state used the fact that they didn't think the public would be behind us," Williams said. "President Bush said, `Let's get on with it.' And that's what we're doing."
Ventura canceled his public appearances yesterday, citing hip problems.
With nearly 28,000 workers eligible to strike, more than half of the state's work force could be sidelined. There were no immediate estimates from either side on how many crossed the picket lines. If all workers went on strike, it would be the biggest state walkout ever in Minnesota.
Union members delayed their action for two weeks after the Sept. 11 terrorist attacks, but with a big gap between what they were asking and the state was offering, they said they would not wait any longer.
"This is about as American as it gets," said Rhonda Land, an air quality inspector picketing outside the Minnesota Pollution Control Agency. "People being able to speak their minds. This is extremely patriotic."
Union leaders authorized the action Sunday after a weekend of talks failed to bring new two-year contracts. It was the first walkout since 1981, when some 14,000 public employees struck for 22 days.
Across Minnesota, picket lines wound around state buildings. At the Capitol, hundreds of union members chanted, "Who does the work? We do. Are we patriotic? Yes." They also sang "God Bless America" and recited the Pledge of Allegiance.
"We don't have to apologize for being out today - at all. Our cause is just. Our
requests are reasonable," said Peter Benner, executive director of the American Federation of State, County and Municipal Employees Council 6.
Both sides said they were ready to resume negotiations.
The state offered AFSCME members a 3 percent pay raise in each of the next two
years, and members of the Minnesota Association of Professional Employees a
one-time, 4 percent increase. AFSCME leaders wanted 5 percent, MAPE about 4.5 percent each year of a two-year deal.
Health benefits were another sticking point. The state hoped to reduce insurance premiums but raise co-payments and deductibles.