Four residence halls to be built on Highland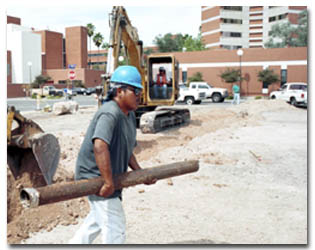 BEN DAVIDOFF
Construction worker Ed Antone carries a section of sewer line from the old UAPD site near East Fifth Street and North Highland Avenue. Four new residence halls are being built in the area as well as a new Campus Health Services building and Disabilities Resource Center.
By Mariam Durrani
---
ARIZONA DAILY WILDCAT
Wednesday October 3, 2001
New housing projected to accommodate 750 students; other facilities to be relocated nearby
Four new residence halls and a relocated Campus Health Center will find new homes on North Highland Avenue over the next three years, UA officials said.
The Residence Life office and Disabilities Resource Center will also be relocated to the complex - deemed the Highland District Redevelopment Project - located between East Fourth Street and East Sixth Street on North Highland Avenue, said Melissa Dryden, University of Arizona director of construction.
"The area is currently being under-utilized, and because this is valuable real estate and already near existing residence halls, it is prime location for this kind of project," Dryden said.
Construction will begin in spring 2002 and should be completed in fall 2004, Dryden said.
"It will be redeveloped into a high-intensity and high-activity student district," Dryden said. "This should be a positive change."
Construction of the residence halls will be completed in two phases. Phase One will include building one residence hall and a new Residence Life office near the corner of East Sixth Street and North Highland Avenue.
"The main offices are being relocated from Babcock Inn, and other areas will be consolidated to the new building," said Sharon Overstreet, assistant director of Residential Education.
The new residence halls will have the capacity to accommodate more than 750 students. Due to the possibility of a first-come, first-serve policy for housing applicants, the dilemma of running out of dorms for incoming students should not be as large of a problem as in the past, officials said.
Phase One begins next month when the entire area is fenced off to the public. The fence will surround the area from North Highland Avenue to the Environmental and Natural Resource building, 520 N. Park Ave. between East Lowell Street and East Sixth Street.
The UA motorpool - an area where university vehicles are housed - and Grounds and Labor building will move because their current locations will be destroyed for the new construction.
Phase Two will include the other three residence halls that will line North Highland Avenue from East Fourth Street to the border of Phase One.
Phase Two will begin in late 2003 and finish by Fall 2004.
Dryden estimated that residence hall construction will cost $39.7 million.
The current Campus Health Center at 1541 E. University Blvd., which has been expanded in the past, does not have the room to accommodate another extension. It will be moved into an area that will be called Highland Commons.
The Disabilities Resource Center is currently at two separate locations, and by moving they can consolidate their services, Dryden said.
The university has approved all of these projects, and the buildings are currently being designed.