Football notes: Shattered pride, not bones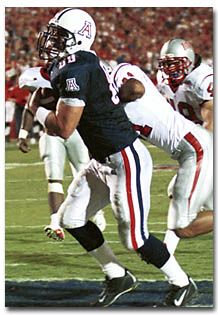 KEVIN KLAUS
UA junior tight end James Hugo catches a touchdown pass in the Wildcats' game against UNLV earlier this season at Arizona Stadium. Hugo has caught six passes this season.
By Maxx Wolfson
---
ARIZONA DAILY WILDCAT
Wednesday October 3, 2001
Instead of the usual array of physical injuries suffered after a game, the UA football team's only dings from its loss to Washington State may have been to players' egos.
The Wildcats came out of Saturday's 48-21 loss game relatively healthy, a pleasant surprise to head coach John Mackovic.
"I would have expected that we would have had more ankle injuries," he said.
The only new injury Mackovic reported was junior linebacker Ray Wells' injured shoulder. It wasn't serious; he remained in the game against WSU.
Wells did not practice Monday night and watched most of practice from the sideline last night wearing a yellow no-contact jersey.
"He is listed as questionable, but we expect that he will play this week," Mackovic said.
That's good news, because senior defensive end Alex Luna, who did not play against the Cougars, remains questionable for Saturday's game against No. 7 Oregon. Earlier this week, however, Luna was allowed to remove the knee brace he wore following surgery performed last week. Luna practiced a little last night.
"There is an outside chance that Alex will play, but he is questionable right now," Mackovic said. "He is going to work out this week. It's been (10) days (since he had surgery), so we are going to see how much he can tolerate. There is a chance he could be ready to do a little bit by the middle of the week."
Freshman defensive end Fata Avegalio injured his knee in the pass-rushing drill last night.
"He stung his knee and leg, and we will just have to wait and see," Mackovic said. "I don't know (how he got hurt) exactly."
Avegalio, who was inactive for the UNLV game because of a dislocated elbow, played in 17 plays last week.
Hurt by a lack of fresh players against WSU, Mackovic said he wished true-freshman defensive end Carlos Williams had seen more action in UA's first three games.
Williams, recruited as a tight end, switched positions this fall and was expected to see some action early in the season.
"He really has to play more," Mackovic said. "I'm disappointed that we didn't play him more."
Senior defensive end Eli Wnek is still out with a broken foot, is not expected to play this weekend and is doubtful for Arizona's game against Oregon State Oct. 13. Chances are his first game will be against Washington on Oct. 20.
"If he returns any earlier than Washington, it would be a real boost," Mackovic said.
Wnek's foot is going to be tested tomorrow, and if he passes, he will be able to start running after that.
---
After little use in Dick Tomey's offense, the tight end position has seen more passes this season.
Mackovic said the tight ends, who play a key factor in his pass-happy offense, have performed well.
Last season, former Wildcat Brandon Manumaleuna, who, by some accounts, had the best hands in all of college football, caught only 13 passes the entire year for just one touchdown.
This season has been a different story altogether.
Arizona's four tight ends - junior James Hugo, freshman Steve Fleming, sophomore Justin Levasseur and senior Pete Hansen - have caught eight combined passes for one touchdown so far this season.
"I'm going to rotate these guys quite a bit," Mackovic said.
Hugo leads the group with six catches, but the biggest surprise of the group may be Fleming.
Fleming, who competed for the starting quarterback position in spring, caught his first career pass as a tight end Saturday, in his first live action since returning from an ankle injury.
"He has speed and is a tough player," Mackovic said. "He is giving us a physical presence at tight end. It was disappointing that he missed three weeks."
Mackovic said he worries least about Hansen, the oldest player in the group.
"I know that Pete will always scrap and fight," Mackovic said. "I never worry when Pete is in the game because I know he will always be blocking somebody. Actually, I take that back, I worry if he is not blocking the right person."
Hansen, known for blocking kicks on field goals and extra point attempts, has yet to block a kick or catch a pass this season.
---
It took more than a season, but former UA tailback and St. Louis Rams 2000 first-round draft pick Trung Canidate finally scored his first NFL touchdown Sunday against Miami during the Rams' 42-10 rout.
Canidate, who has been riddled with injuries during his short professional career, got a chance to showcase his skills when starting tailback Marshall Faulk rested late in the game.
With less than three minutes remaining, Canidate scampered in for a score from 9 yards out.
Playing behind the All-Pro Faulk, Canidate has helped the Rams any way he can. As a No. 1 kick returner this season, head coach Mike Martz has given him praise.
Canidate finished his career with the Wildcats as the school's all-time leading rusher with 3,824 yards. He also holds the UA record for most yards in a season with 1,602 and most yards in a game with 288.