Women's volleyball team drops to No. 7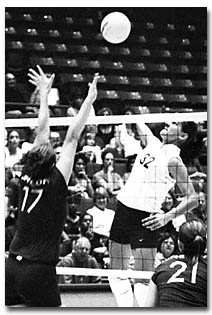 DAVID HARDEN
UA senior outside hitter Jill Talbot attempts a kill against Oregon earlier this season in McKale Center.
By Brian Penso
---
ARIZONA DAILY WILDCAT
Wednesday October 3, 2001
Team has put Southern California trip behind them
The UA women's volleyball team dropped four spots to No. 7 in the USA/AVCA poll after being swept by both UCLA and Southern California over the weekend.
Before its disastrous trip to Los Angeles, the Wildcats (7-2, overall 2-2 Pac-10) were the No. 3 team in the nation, the highest rank of any Pacific 10 Conference team.
UA head coach David Rubio said he is more worried about his team's chances this weekend than its ranking.
"I am really not concerned with rankings," Rubio said. "It is very early in the season, and it is more important for us to improve and get better. Rankings only matter at the end of the season."
Defending NCAA National Champion Nebraska remained atop the polls.
Even with the loss of the Wildcats, the Pac-10 Conference still has three teams - USC, Stanford and UCLA - in the top five.
"The Pac-10 is filled with great competition," UCLA head coach Andy Banachowski said. "We pride ourselves on tough, competitive matches. Most of our games are like postseason matches filled with a lot of intensity and competitiveness."
---
Although Arizona is coming off its first two-game losing streak in two years, players say their sprits are high.
"This (sweep) was not an indicator of anything," senior outside hitter Jill Talbot said. "USC and UCLA may be celebrating, but I have gone through this the past three years, and I know that the end of the season is where it counts. They may be having fun now, but the last team standing will have the last laugh."
Senior All-American setter Dana Burkholder said that while the losses were difficult, they could bring the team closer together.
"No one likes to lose, but it is early in the season, "Burkholder said. "We have to just put last weekend behind us and focus on our next match.
Rubio said he was displeased with his team's performance against the Bruins Friday, but he said he learned a lot about his team in Arizona's loss to USC on Saturday.
"We did not play a good match versus UCLA, and that was frustrating," Rubio said. "USC, on the other hand, is a Final Four team from last season, and I was pleased to see how we battled against one of the best teams in the nations. It showed me that we are real close from being on their level."