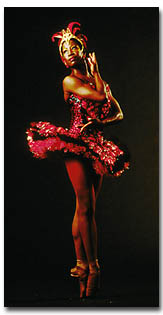 Photo courtesy of Tara Kirkpatrick
Lauren Anderson dances the role of the Firebird. The opera shows tonight at 7:30 in Centennial Hall. Tickets are almost sold out.
By Anne Gardner
---
ARIZONA DAILY WILDCAT
Wednesday October 3, 2001
Houston Ballet brings Stravinsky's popular ballet to UA
Great stories consist of a beautiful heroine, a handsome prince, a nasty bad guy, a little bit of magic and the classic good-vs.-evil plot line.
Igor Stravinsky's ballet "The Firebird," displays all of this and more.
Tonight, the internationally renowned Houston Ballet will perform "The Firebird" along with two other pieces: "Indigo," by Antonio Vivaldi, and the pas de deux (duet) from the three-act ballet "Esmeralda," by Cesare Pugni.
This particular rendition of Stravinsky's masterpiece features new choreography from James Kudelka, artistic director of the National Ballet of Canada, and new scenery inspired by Mayan art and Central American culture created by Tony-award winning designer Santo Loquasto.
"'Firebird' is a fairy tale after all," Kudelka said. "So Santo's designs are respectful of the spectacle. We've set it in an imaginary primitive society in South America, so that means we get to have wonderful headpieces and exotic reptilian monsters."
Melissa Lowe, a University of Arizona ballet professor, performed with the Houston Ballet for four years before moving to Tucson.
Lowe worked with world-renowned choreographers in many ballet classics, such as "Swan Lake," "The Nutcracker," "Sleeping Beauty" and "The Firebird."
As an experienced member of the company, Lowe met Lauren Anderson, then a dance student, who will perform the role of the Firebird in tonight's show.
"Lauren's charismatic personality, wit, athleticism and down-to-earth presence on the stage are all hallmarks of her abilities as a world class artist," Lowe said.
Anderson modifies traditional ideas of role casting in ballet.
"She (Anderson) also changed the stereotypes of roles typically danced by white ballerinas," Lowe said. "This was due to (artistic director) Ben Stevenson's confidence in putting one of his finest pupils forward, trusting that audiences would accept her just as soon as they saw her command of the stage."
Anderson danced principal roles in the Houston Ballet for 11 years, including the "Sugar Plum Fairy," "Sleeping Beauty" and "Cleopatra."
"It's very challenging," Anderson said about her role. "The music is wonderful. I think the audience will really like it."
The story of the Firebird comes from two Russian fairy tales - "The Tale of Ivan Tsarevich" and "The Bird of Light and the Grey Wolf."
In Kudelka's version of the story, the prince's role shows more extensive choreography than in other interpretations of the opera.
"The ballet is his story - a calm and righteous young warrior who triumphs over a horrible court," Kudelka said.