Poet Leader brings a new beast to Modern Languages tonight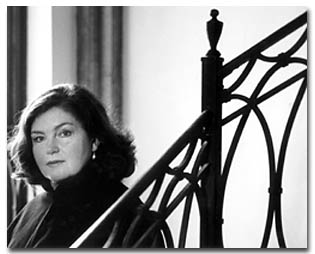 Photo courtesy of Francis Shoberg
Experimental poet Mary Leader reads works from her new book tonight at 8 in the Modern Languages auditorium. The reading is free and sponsored by the UA Poetry Center.
By Anne Owens
---
ARIZONA DAILY WILDCAT
Wednesday October 3, 2001
Former Oklahoma Assistant Attorney General Mary Leader came late to her literary career. After many years as a successful lawyer, she transformed into a writer of experimental poetry.
The result was "a stroke of good luck for the literary community," said Frances Shoberg, events coordinator of the University of Arizona Poetry Center.
The Center will hold a reading by Leader tonight in the Modern Languages auditorium at 8 p.m. Admission is free.
Edward Hirsh, author of "How to Read a Poem and Fall in Love With Poetry," once said of Leader: "She brings a lovely music, a nearly limitless sense of invention, a ruthless taste for games, and a fantastic imagination to her second book."
Leader's newest book, "The Penultimate Suitor," recently won the Iowa Poetry Prize, a prestigious national award. Her first book, "The Red Signature," won the National Poetry Series in 1997.
"When she reads her work, the poems sometimes seem like music scored with syntax and the sounds of the English alphabet," Shoberg said.
Leader is now a professor of English at the University of Memphis, where she teaches poetry in the school's creative writing program.
The Poetry Center strives to bring a wide scope of poets to UA by presenting both distinguished and emerging poets. The fresh style of Leader's poetry attracted the Center's attention
"We found her work to be interesting and new," said Alison Deming, Poetry Center director. "It's poetry that's well grounded in experience, but experimental in form."
Leader's poetry doesn't run much risk of being pigeonholed into the categories of banal or ordinary.
"Leader is a truly experimental poet," Shoberg said. "She draws from the tools used by various aesthetic groups and uses them to her own ends. The resulting poems might have things in common with avant garde poetry, with traditional metered verse, with surrealist or concrete or narrative poetry, but Leader uses these to create a new beast - a beautiful one - of her own imagination."
Part of the Center's goal is to bring back the power of words when words fail most people.
"In a period of national tragedy and confusion, it's interesting to see so much poetry turning up in magazines and newspapers," Deming said. "We turn to poetry to understand difficulties. When we don't think we have the words, poetry takes us to a place that's helpful."
Leader will also give a pre-reading craft lecture tomorrow at 10:30 a.m. in room 303 of the "Swede" Johnson building, 1111 North Cherry Ave.
The Poetry Center, 1216 North Cherry Ave., was founded in 1960 in order to maintain and cherish the spirit of poetry. It houses a nationally acclaimed special collection library containing more than 39,000 items, including books, periodicals, audio and video recordings, artist designed limited-edition books, photographs and broadsides.