Assistant professor of English receives $25,000 research grant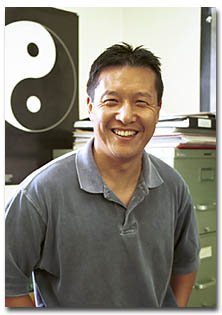 AMY WINKLER
Assistant professor Jun Liu, from the department of English, stands in his office Monday morning. Liu was awarded $25,000 to help foreign students better acclimate themselves with the American educational system.
By Aaron Cowman
---
ARIZONA DAILY WILDCAT
Wednesday October 3, 2001
Assistant professor to study foreign imersion
Assistant professor of English Jun Liu will soon be able to conduct the research he has dreamed of since 1994, thanks to a $25,000 grant.
Liu, who has taught at the University of Arizona for three years, said the research will allow professors to gain a better understanding of what foreign language students go through when they begin American schooling.
"Professors will be able to look at the field with a new perspective," he
said.
Liu was awarded the grant from the American Educational Research Association Post Doctoral and Research Grants Program - an extremely competitive and selective program.
"They are looking for projects that focus on broader subjects in education,"
Liu said.
For his research project, Liu will observe three or four UA Chinese graduate students in different degree programs.
"I'm interested in looking at the total process from when they get here to when they leave," Liu said. "I want representation from different areas."
Liu received his master's of education in curriculum and instruction from
East China Normal University in Shanghai in 1989. He later earned his doctorate in foreign and second language education from the Ohio State University in Columbus, Ohio.
Lius said he felt overwhelmed by the difference in teaching styles while at OSU, and in 1994 began to observe the same emotions from fellow Asian students.
These findings resulted in his book, "Asian Students' Classroom Communication Patterns in American Universities," which will come out this month.
"In the book, I justified a need for a more in-depth study," Liu said.
Liu said he is looking at what he calls "adaptive cultural transformation competence" and how foreign-language students change as a result of a different learning environment.
"I look at things like how they form their own social identities," Liu said.
Liu has begun the search for his research subjects, and said he will start the two-year experiment as soon as he selects all participants.
"I have already started networking with the Chinese student community,"
Liu said. "I've already identified two. I want to get this started as soon
As possible."
Liu said his main objective is to change for the better the way students are taught.
"Right now, we just teach objectively," he said. "I hope to make some contributions to the field of teaching."
Along with teaching English and Linguistics classes, Liu also serves as chairman of the non-native English speakers' caucus, or Teachers of English to Speakers of Other Languages (TESOL).
He said he would like to see a better understanding among the faculty of what the students themselves must go through when they come from another country.
"This will contribute to the field of English as a second language," Liu said. "It will also help other educators at the university.
"The main reason they funded me is I tend to look at it from a first-person perspective from inside the culture. I feel I am in a unique position to do this research."