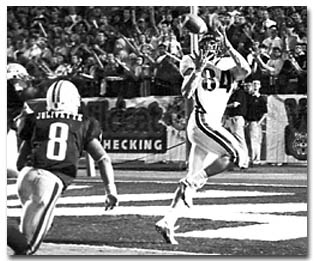 DAVID HARDEN
Oregon senior tight end Justin Peelle catches a pass in the end zone as UA sophomore cornerback Michael Jolivette looks on Saturday at Arizona Stadium. The second-quarter touchdown gave the Ducks a 28-14 lead.
By Maxx Wolfson
---
ARIZONA DAILY WILDCAT
Monday October 8, 2001
Harrington accounts for 6 touchdowns in rout
Joey Harrington didn't have to worry about a late-game comeback Saturday night. Rather, he stood on the sidelines sending in plays to Oregon's second-string quarterback, wearing a backwards baseball cap and joking around with his teammates.
Oregon remained undefeated by blowing out Arizona 63-28 - the most points given up to a Pacific 10 Conference opponent by the Wildcats in their history.
Harrington, the Ducks' senior quarterback, helped his Heisman Trophy bid, completing 15 of 24 passes for 279 yards and six touchdowns - three through the air and three on the ground. He left the game shortly after the start of the fourth quarter.
"It was fun. We had fun for the first time in a long time," Harrington said. "We didn't worry about what people were saying. People were talking in the papers about how we didn't deserved to be ranked where we were. We just went out and had fun and put a game together."
The No. 5 Ducks (5-0 overall, 2-0 Pac-10) had 607 yards on offense, compared to 483 for the Wildcats. At one point, Oregon amassed 164 yards to Arizona's 4 yards.
"We played lousy, and it was pretty obvious," UA head coach John Mackovic said.
The Wildcats have lost seven-straight conference games, five straight conference home games, and have allowed 111 points in their last two games.
"It's just embarrassing," UA wide receiver Bobby Wade said. "We really expected to give Oregon a better game."
The UA offense hurt its own cause by committing five turnovers, all of which led to Oregon scores.
This game started much like last week's against Washington State for the Wildcats.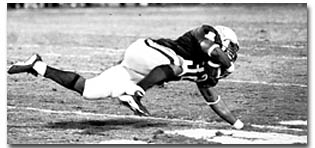 BEN DAVIDOFF
UA sophomore running back Clarence Farmer stumbles during a run against Oregon Saturday night at Arizona Stadium. Farmer would finish the night with a career-high 158 yards, but the Wildcats fell to the Ducks 63-28.
The Ducks jumped to an early 14-0 lead in the first quarter, courtesy of a 2-yard pass to sophomore tight end George Wrighster and a sneak by Harrington.
The Wildcats (3-2 overall, 0-2 Pac-10) answered, scoring on a 44-yard pass to senior wide receiver Brandon Marshall and tying the game on an eight-yard touchdown catch by sophomore halfback Anthony Fulcher, the first of his career.
The touchdown was set up by a 78-yard run by sophomore tailback Clarence Farmer, who had an open path to the end zone before falling - untouched - at the Oregon 10-yard line. The sophomore finished the night with a career-high 158 yards on 15 carries.
"I tried to cut it back on the run and my feet slid out from under me," Farmer said.
Farmer's slip-up was a sign of things to come for the Wildcats.
UA then allowed Oregon to score the next 49 points.
The Ducks scored on their final three possessions before halftime, taking a 35-14 lead into the locker room.
"Take nothing away from Oregon, but I think we laid down for a minute there," Wade said. "Maybe for a quarter there we played Wildcat football, and then we went back and just laid down."
Oregon controlled the entire second half, and Arizona fielded its second- and third-string players for most of the third and fourth quarter in an attempt to get something started offensively.
After throwing an interception to OU junior linebacker David Moretti, UA junior quarterback Jason Johnson was replaced by sophomore Cliff Watkins with 10 minutes left in the third quarter. Most of the 45,258 fans departed after that.
"Mackovic just told me that Cliff was going in and he gave no more explanation than that," Johnson said.
Johnson finished the night completing 7 of 18 passes for 132 yards, two touchdowns and one interception.
Arizona backup quarterbacks junior Cliff Watkins and freshman John Rattay did not fare any better.
Watkins was intercepted on his first drive by senior linebacker Wesly Mallard before being replaced by Rattay, who was 6 of 11 for 93 yards and one touchdown. The freshman transfer from Tennessee found senior wide receiver Malosi Leonard in the end zone late in the fourth quarter for the Wildcats.
UA added another touchdown on a 26-yard run by freshman running back Tremaine Cox to make the score a little closer.
UA's game - especially on offense - was marred by mistakes that led to scores for Oregon.
On an attempt to catch the Ducks off-guard, the Wildcats tried something that WSU pulled off against them last week - an onside kick after tying the game at 14-14 in the second quarter.
Freshman kicker Ryan Slack's kick was recovered by senior safety Jarvie Worcester, but referees ruled that the ball did not travel ten yards, and Oregon took over the possession.
That gave the Ducks good field position, and they scored five plays later to take a 21-14 lead. The score wouldn't be that close for the rest of the game.
Going into the game, the Wildcats had added incentive to beat one Oregon player in particular - Mallard. Last season, he hit UA sophomore cornerback Michael Jolivette with what some Wildcat players and coaches say was a cheap shot. Jolivette missed the final three quarters in Oregon's 14-10 victory last season and most of the following game after he received 11 stitches and had some teeth loosened.
However, Arizona did not retaliate against Mallard, and he and his fellow mallards once again, got the last laugh.
The Wildcats will try to salvage what once appeared to be a promising season Saturday when they face another top Pac-10 team, Oregon State.
"We have to come out next week ready to play because it's a turning point in our season," Johnson said.