Commentary: Defense disappears - again
By Kamy Shaygan
---
ARIZONA DAILY WILDCAT
Monday October 8, 2001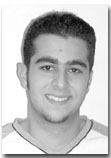 Kamy Shaygun
Arizona's defense steps on the practice field today with a different frame of mind.
For the first time in years, the defense - the unit fans never had to worry about - should panic.
The most stable part of UA's football program year in and year out gave up 104 points in its last two outings, blowout losses to the Washington State Cougars and Oregon Ducks.
Arizona sophomore free safety Clay Hardt was in a state of disbelief after Saturday night's humiliating 63-28 loss to the Ducks.
"I don't know, damn, I think right now we're just kind of dumbfounded," said Hardt, moments after Saturday night's game. "It's not something you expect."
After Arizona tied the game at 14 near the beginning of the second quarter, the Wildcats' defense surrendered a mind-boggling 49 consecutive points to the Ducks.
Whether the players admit it or not, their confidence has taken a serious blow. Oregon's 63 points against Arizona marks the highest amount of points the Wildcats have ever given up in a conference game.
The Wildcats allowed Oregon tailbacks Onterrio Smith and Maurice Morris to run for a combined 241 yards, and their pass defense wasn't much better.
Duck wide receiver Samie Parker had a field day against Arizona's defense, catching six passes for 160 yards.
OU Heisman Trophy candidate quarterback Joey Harrington threw three touchdowns and rushed for three more.
The only justification UA head coach John Mackovic could give regarding the defense, after giving up 607 total yards, was that the unit had been hit with the injury bug.
"Our defense is just worn out," Mackovic said. "We are out of people. (Senior defensive lineman) Austin Uku was hurt in the warm-ups - he couldn't play. (Senior defensive tackle) Keoni Frasier couldn't play. (Senior defensive end) Alex Luna had to play without practicing a couple of weeks.
"It's tough for us on defense. It's going to be tough for us until we get some people or until we make some changes. At this time, we don't have a lot of personnel."
Even junior quarterback Jason Johnson, usually mild-mannered and positive, was disgusted with the team's performance.
"When you play two great teams like that, I don't think we knew what we were in for," Johnson said. "If we want to compete at this level, everyone needs to take a gut check. We're fooling ourselves if we think we're ready to play these teams. What we need to do is regroup and come back (today) with a heart ready to work."
When asked how he was going to deal with the loss, Mackovic said there would be no reassuring words to his players.
"I'm not going to worry about re-gathering," Mackovic said. "They're either going to re-gather or they're going to splinter. Everyone is going to have to pitch in here a little bit. This is what you go through. I don't have to give them a re-gather talk. They either understand it - some of our seniors understand it - or they don't. If they don't, then it will be a real shame. They will miss an opportunity to help pull a team together."
It might be time to start worrying.