UA still 550 pints of blood short in ASU/UA competition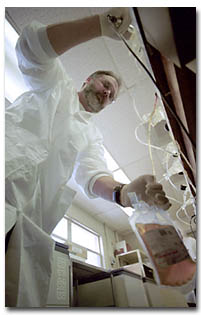 RANDY METCALF/Arizona Daily Wildcat
Technical assistant Kevin Bickley separates plasma from blood in the American Red Cross laboratory, 222 S. Cherry Ave., yesterday afternoon. Even though a large amount of blood has been donated in the past month, officials said the American Red Cross in Tucson is still under its quota.
By Jeff Sklar
---
ARIZONA DAILY WILDCAT
Thursday October 18, 2001
Fewer than 250 people have donated; drive continues for two more days
Fewer than 250 people donated blood in the first two days of the UA/ASU blood drive, a Red Cross official said yesterday.
The Associated Students of the University of Arizona expected that 400 people would donate blood during each day of the weeklong drive.
However, only 238 people donated through Tuesday night, leaving the total more than 550 pints less than expected, said Lynn Cunningham, director of marketing and communication for the Arizona region of the Red Cross.
"We're not exactly sure what's going on," Cunningham said. "We've got to get everyone out there Thursday and Friday."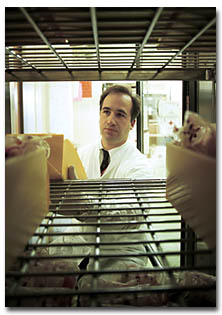 RANDY METCALF/Arizona Daily Wildcat
Hospital service supervisor Scott Perry checks blood inventory in a cooler at the American Red Cross yesterday afternoon. Each cooler holds hundreds of pints of blood.
Quintero still hopes ASUA meets its final goal of 2,000 pints donated. However, nearly 600 people a day must donate until the end of the drive to meet the mark.
Cunningham said that although she did not have numbers from Arizona State University, they have not experienced a shortfall.
ASUA President Ray Quintero suggested that the shortage may be caused by the massive amounts of people who donated blood after the Sept. 11 terrorist attacks.
But Cunningham said the Red Cross did not experience a huge increase in the amount of blood donated in September, and that ASUA told students to wait until this week's drive.
Last year's drive between UA and ASU garnered nearly 1,000 pints from UA and 1,100 pints from ASU.
ASUA has worked with the Red Cross since 1987 in organizing the annual inter-university drive.
This year's blood drive continues through Friday at various locations around campus.