Nationally-recognized band could play at UA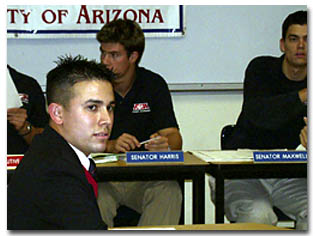 BEN DAVIDOFF
ASUA President Ray Quintero fields questions from senators at last night's ASUA meeting. Quintero said ASUA is looking into the possibility of scheduling another campus concert on Nov. 2 at Bear Down Field.
By Cyndy Cole
---
ARIZONA DAILY WILDCAT
Thursday October 18, 2001
Name of band not yet disclosed; no official contracts exist
A major band that has yet to be identified may play at Bear Down Field on Nov. 2, ASUA President Ray Quintero said at last night's ASUA Senate meeting.
Quintero would not identify the band, because it has not yet accepted any official offer from Associated Students of the University of Arizona to play. However, the identity of the band should be revealed next week, if the contract discussions begin.
This concert is intended to be a substitute for Eve 6, which cancelled their Aug. 24 appearance at CatFest.
While ASUA officials are keeping quiet on the band's identity, tickets would go on sale to students Oct. 25 for $15 each if a contract is approved. Faculty, staff and other Tucsonans could buy the tickets at a later date, for $20 each.
Approximately 6,000 tickets to the concert will be sold, if approved.
All that is known about the band is that it normally charges $70,000 per show, brings all their own equipment and the UA would be the last stop on their tour.
An offer of $45,000 has been authorized by ASUA to the band.
"The band is of a high enough caliber that (tickets) are expected to sell out," said ASUA Sen. Doug Hartz.
ASUA hopes to make $100,000 from ticket sales from the show, which could be used to fund future concerts, clubs or a variety of other things, Quintero said.
Two ASUA senators were concerned that ticket prices may prevent some students from attending the concert. However, students with financial difficulties will be allowed to purchase tickets for half price from faculty fellows - faculty that are assigned to residence halls, Greek life, multicultural centers, and academics to interact with students on a personal level.
Some ASUA senators said they are concerned that the band would sign the contracts and not show up, or that the concert would be rained out, as previous shows have been.
"I wouldn't want ASUA to build up a reputation for having bands cancel on us and disappoint the students," said Sen. Jessica Patze.
However if the band did back out, funds would be fully reimbursed, and the band's agent would be responsible for finding an equally-renowned band to replace the one that cancelled, Quintero said.
In the case of rain, the concert would be set up in Bear Down Gym, which could accommodate all ticket holders, Quintero said.
The next ASUA meeting will be Wed in Modern Languages, room 411, at 6 p.m.