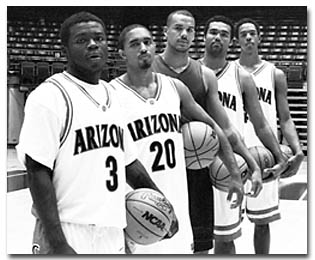 AMY WINKLER/Arizona Daily Wildcat
The UA men's basketball five freshmen, (from left) Will Bynum, Salim Stoudamire, Dennis Latimore, Isiah Fox and Channing Frye, line up during practice in McKale Center yesterday. All five are expected to play a big role for the Wildcats this season because of the few number of returning players from last season.
By Jeff Lund
---
ARIZONA DAILY WILDCAT
Thursday October 18, 2001
Wildcat freshmen looked upon for immediate impact
A year ago, there was the hype. Arizona graced the covers of magazines nationwide. There was little question about their talent and capability.
A year ago, junior point guard Jason Gardner was the teammate of four Wooden Award Candidates. Graduation and three early draft departures later, Gardner stands surrounded by youth.
This is not a year ago.
Even though the Wildcats lost 77 percent of it's scoring from last year, assistant coach Jim Rosborough says Arizona has been in this position before.
"We have been at our best," Rosborough said, "when people expect the least."
Following the departure of Pacific 10 Conference Player of the Year Jason Terry in 1999, the Wildcats were supposed to start rebuilding. But two freshmen - shooting guard Gilbert Arenas and Gardner - propelled UA back into contention for a national championship.
This season, much like in 2000, Arizona will rely on the ability of their newest players to pick up the slack from last year's departed players.
Rosborough said he isn't too worried.
"I like what I see out of that bunch," Rosborough said. "Because of the numbers, they will have to play. They can have a major impact."
Head coach Lute Olson said the freshmen are performing well in practice and that he is pleased with how much they have absorbed after less than a week of practice.
"(The freshmen) are all talented and are capable of playing very well at this level," Olson said. "They want to learn."
Rosborough pointed out that recent history bodes well for this year's freshman crop.
"Gilbert and Jason came in and really got after it," Rosborough said. "This class can do the same."
The candidates to take the mantle are guards Will Bynum and Salim Stoudamire.
Bynum, a 5-foot-10 freshman from Chicago, averaged 27 points, six rebounds and six assists per game in high school. Bynum, a featured player on the Fox Sports Network show "Preps", which followed the season of numerous high school players in the Chicago area, will compliment the experienced Gardner at the point guard position.
"Will had a great senior year," head coach Lute Olson said. "He has tremendous athletic skill and has a great attitude. He is going to be a very good addition."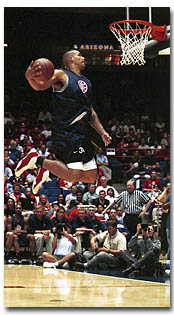 KEVIN KLAUS/Arizona Daily Wildcat
UA freshman forward Dennis Latimore attempts a dunk during Midnight Madness last weekend in McKale Center.
Bynum said that history played a part in his decision to bring his talent to Tucson.
"When I first came here, I knew this was the place for me," Bynum said. "Especially with the history of the guards."
Bynum, who won the slam-dunk contest at "Midnight Madness," said he is ready to make an impact on this team and take them to the pinnacle of college basketball.
"I don't plan on leaving (for the NBA) until I get to the Final Four," Bynum said.
Stoudamire, cousin to former UA All-American and Portland Trailblazer point guard Damon Stoudamire, has the potential to be a better player than his famous relative, Olson said.
"Salim is left handed, but much bigger than Damon," Olson said. "He is an excellent shooter. Salim can play any of the perimeter positions."
Gardner also said that with Bynum and Stoudamire, the point guard and shooting guard spot can be interchanged easily.
"We can all share the (point guard and wing)," Gardner said. "Whoever gets the ball, the other can just take the wing."
While history and bloodlines might favor the two freshman guards, the frontcourt is less certain for the Wildcats.
After losing standouts Michael Wright and Loren Woods to the NBA draft, Rosborough said the middle may be the most difficult area to find replacements.
"We need to find someone to play inside," Associate head coach Jim Rosborough said.
Forward Dennis Latimore, the Kansas Class 3-A Player of the Year, averaged a double-double his senior year while academically ranking sixth in his graduating class of 65.
Latimore said he is not looking to rush into anything or try and do too much too soon.
"I am comfortable in whatever role," Latimore said. "I just want to come in an contribute to the team in any way possible."
Latimore's physical play and strong build will help the team upfront
"He is a rock," Olson said. "He is very similar to (Michael) Wright."
In the middle, Channing Frye and Isaiah Fox will compete for the starting center spot. The 6'9'' Fox is an inch shorter than Frye, but outweighs Frye by 25 pounds. Both centers led their respective teams to state championship games last season.
Olson said he has been impressed with the play of his new young frontcourt.
"(Isaiah Fox) has been far and away our leading rebounder," Olson said. "He has great hands and a huge body.
"Channing Frye it is sort of a Loren Woods in the making. He has similar capabilities. He is a good passer and has a nice shooting touch."
Junior forward Ricky Anderson said he likes what he has seen out of Frye and Fox, but knows they will need to develop.
"They have lots of potential," Anderson said. "They are used to scoring 30 (points) a game and dunking on guys. But when you come play pickup with (Division I) players, you're not going to have that."
A lot of things will be different for these freshmen. None of them have faced the likes of UCLA's Dan Gadzuric, Stanford's Casey Jacobsen or Southern Cal's Sam Clancy, all of whom UA will play once the conference season begins.
"The bigger competition the better," Latimore said. "I look at every game the same. Whether it's at (my old) high school or Madison Square Garden, it is a mindset. I just worry about everything in between the lines on the court."
As experts continue to pick Arizona to finish in the lower half of the Pac-10, Rosborough said this team isn't willing to throw up the white flag.
"It's very motivating," Rosborough said. "(The players) are very aware (of the summer rankings).
"Let (teams) think they will get Arizona. They still have to play us."