A tale of two quarterbacks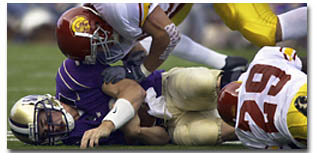 Associated Press
Washington quarterback Cody Pickett gets sacked by USC defenders earlier this season. Pickett is suffering from a seperated shoulder, and may not be available to play against UA Saturday.
By Maxx Wolfson
---
ARIZONA DAILY WILDCAT
Thursday October 18, 2001
Will it be Barton or Pickett?
Think UA defensive coordinator Larry Mac Duff will have a hard enough time preparing a way to stop the Washington offense Saturday night?
Try preparing for two different offenses.
Mac Duff and the UA offense will have to prepare for two separate attacks in preparation for UW head coach Rick Neuheisel's decision. Will it be sophomore Cody Pickett? What about junior Taylor Barton?
Both of the No. 15 Huskies' quarterbacks are coming off injuries.
Pickett suffered a separated shoulder during UW's game against Southern California, and Barton, who was thought to have suffered a concussion from last week's game against UCLA, also has an ankle and foot injury.
"It remains to be seen," Neuheisel said about who will start Saturday. "We've got two quarterbacks who have both played well. Both are a little beat up. We will see who is most healthy for this week. If Cody is healthy, then we'll go with Cody. He was our starter. But if not, I feel we can win with Barton."
The difference between the two quarterbacks is the style of offense they use. Pickett fits in better with an option offense, while Barton is more of a pocket passer.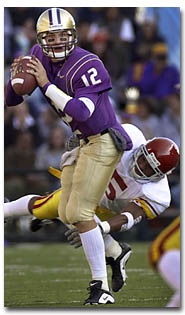 Associated Press
Washington quarterback Taylor Barton drops back for a pass earlier this season. Barton may be suffering from a concussion, and also is complaining of ankle and foot ailments.
"They didn't feature the option quite as much with Barton, but if Pickett does play, we have to assume that they are going to run the option," UA head coach John Mackovic said. "We have to be prepared for both quarterbacks, so there are two offenses that we have to get ready for this week."
The Huskies' quarterback situation has been similar to that of the Wildcats coming into the season.
Both schools had to replace quarterbacks - Marques Tuiasosopo at UW and Ortege Jenkins at UA - with backups who did not get to see any action the previous years.
However, at Washington the expectations remained high after ending last season as Co-Pac-10 Champions and defeating Purdue 34-24 in the Rose Bowl.
The Huskies got a taste of reality last weekend when No. 4 UCLA trounced them 35-13 in Pasadena, ending a 12-game winning streak.
"We had a wonderful winning streak come to an end, and it's important now that we re-focus our attention to the rest of our season beginning with this week with Arizona," Neuheisel said. "We need to fix what broke against UCLA. Most important to me is that we gather our confidence, bring back our swagger, and see if we can't continue to improve and make this season a great one."
If Washington wants to remain among the leaders in the Pac-10, they will need to improve in two different areas - stopping the run and running the football.
Last week against the Bruins, UCLA senior tailback DeShaun Foster rushed for a career-high 301 yards and four touchdowns against a young UW defensive front.
UA sophomore running back Clarence Farmer said he is not going to change anything in his approach to the Huskies after seeing what Foster did to them last week.
"I'm going to play against them just like any other team," Farmer said. "Right now, we're just working on their twists and blitzes."
The Huskies' defensive front is anchored by senior defensive tackle Larry Tripplett, a 2000 second-team All-American and Lombardi Award candidate this season.
"They have one fabulous player in Larry Tripplett, and as good as he was last year, he is an even better player this year," Mackovic said. "He is the most active of any of the inside guys we've played. He is quick off the ball, he reads the blocks, and he defeats people one-on-one."
On the other side of the ball, the Huskies netted negative 8 yards on the ground, a rarity for a team who features the run.
Senior tailback Willie Hurst rushed for 20 yards on 10 carries, and sophomore tailback Rich Alexis had negative 18 yards on seven carries last week.
"To judge people from a year ago, you have to look at what we had," Neuheisel said. "We had a senior-based offensive line a year ago, and players were able capitalize on their experience. There's just not enough space as were are developing a new offensive line, which will hopefully reach the status of last year's line. The only way to do that is to believe in our confidence and work our butts of."
The offensive line will need to keep the Wildcat defensive players off either Barton or Pickett, or it could not only be a long night for the Huskies, but a long season as well.