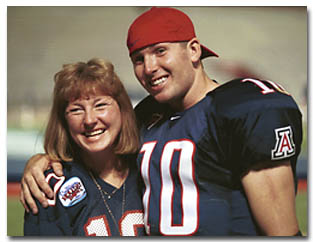 ERIC M. JUKELEVICS
UA junior quarterback Jason Johnson gives his mom a hug after a game at Arizona Stadium earlier this season. Saturday's game at Washington will be the first time most of his relatives see him start for the Wildcats.
By Maxx Wolfson
---
ARIZONA DAILY WILDCAT
Thursday October 18, 2001
Johnson gets to play against his hometown team
When UA junior quarterback Jason Johnson looks over at the opposing sideline Saturday afternoon in Seattle, he is going to see something familiar.
Rodgers High School, Johnson's alma mater, had one major rival - Johnson's nearby Puyallup High School.
Puyallup High is known as a pipeline for the University of Washington, located 30 miles from both high schools.
"Puyallup High sent three straight quarterbacks - Billy Joe Hobert, Damon Huard and Brock Huard - (to Washington)," Johnson said. "So it's kind of like the Puyallup pipeline. They wore Husky colors (purple and gold), they ran the Husky offense and they had Husky connections. So, it's like my whole life I have been playing against the Huskies."
Johnson will finally get a chance to take on the real Huskies as Arizona's starting quarterback Saturday.
Though he said he isn't worried that playing in front of his hometown fans will make him more anxious, Johnson knows Saturday's game is a must-win for the Wildcats if UA wants to remain bowl eligible.
"I don't think there is more pressure, but there definitely will be more excitement," Johnson said. "I will probably have about 50 people at the game who don't get to see my play in person. It will definitely be a fun homecoming, and hopefully it will add more people to the Arizona cheering section."
Johnson has seen his parents - James and Holly - often because they have been to each game this season.
"Family is the most important thing in my life and we are such a tight family," Johnson said. "It will be nice for them not to hop on a plane this week after six straight weeks of doing that. They are definitely excited."
Johnson's older brother, Chad, will be presiding over the Wildcats' pre-game chapel service.
"Other than that, I won't get a chance to see my family until after the game, and that will only be for a quick 20 minutes, and then we are back on the plane," Johnson said.
Even though Johnson grew up in Husky Country, he followed another school in the area - Pacific Luthern University in Tacoma, Wash. - where his grandfather, Frosty Westering, is the head coach.
"I never really considered going to Washington because I grew up going to my grandpa's school," Johnson said. "That is 15 minutes the other way, and I went to every one of their games and I was a ball boy, so I never considered (becoming a Husky). When you add in the high school pressure of playing against a Washington Husky-esque team, I don't think I could have gone up and played for the Huskies."
Johnson said the Huskies tried to keep him in the Northwest.
"They recruited me a little bit, and obviously I had a little bit of interest because it would have been cool to go to UW, but God opened the door for me to come down here," he said. "Arizona was my first choice. I really wanted to go to somewhere warm, and that really left me somewhere in Southern California or Arizona. Arizona State was recruiting me a little bit, but everything clicked with Arizona, and I always loved the school.
"Plus, it got me out of the rain."
When Johnson chose to attend Arizona in 1998, he was the only quarterback the school took that year.
Getting on the field wasn't easy, though. He was a two-year backup to Ortege Jenkins and Keith Smith, and only threw 11 passes in his first two seasons.
This season, Johnson is finally getting his chance under center.
The signal-caller has completed 56 percent of his passes this season, and thrown for nine touchdowns and seven interceptions.
However, Johnson has struggled in his past two games completing only 40 percent of his passes and has thrown only one touchdown.
UA head coach John Mackovic said he is not thinking about using either freshmen John Rattay or Cliff Watkins, even though Johnson has struggled the last two weeks.
"If he misses a throw or a read, he accepts that, and he wants to fix it and work on it," Mackovic said. "He is willing to understand when something wasn't correct. Anyone who has that kind of attitude knows that he needs to work on getting better."
Sophomore tailback Clarence Farmer is happy with Mackovic's decision.
"What he has shown me is that (Johnson) has a lot of heart and courage," Farmer said. "He can avoid defenders and he is relaxed in the pocket. I have never really seen him pressured and he is a calm and relaxed person and I like that in a quarterback. I have a lot of faith in Jason."