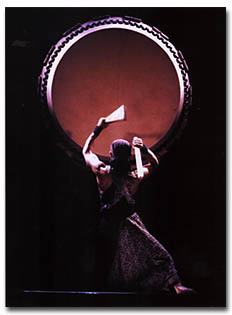 Photo courtesy of Yamato
One of Yamato's 11 drummers performs on a traditional wadaiko drum. The Japanese performance troupe performs tonight only at Centennial Hall.
By Graig Uhlin
---
ARIZONA DAILY WILDCAT
Thursday October 18, 2001
Japanese drum-performance group Yamato performs at Centennial tonight
A drum in the wrong hands - those of an angst-ridden teenager banished to the garage, where he tries to fulfill his dreams of becoming the next Lars Ulrich, for instance - can be a dangerous thing.
But in the right hands - those of the Japanese drum-performance group Yamato - drumming can take on cultural and spiritual significance, fostering connection between the performers and audience.
Yamato, a high-energy performance group that features wadaiko (or taiko) drums, performs a one-night-only show at Centennial Hall tonight. Wadaiko drums have a deep cultural significance in Japan, going back several hundred years.
"It used to be used in the shrine for wishing that a rain should come," said Masaaki Ogawa, founder of and performer in Yamato, through an interpreter.
Ogawa also said that in the last 30 to 40 years, however, this art of drumming has been revived as a performing art, gaining in popularity around the world. Currently, there are 130 performing groups worldwide, including the local troupe Mogan Daiko Taiko.
Rome Hamner of that group will lead an "Arts Encounter" presentation 45 minutes before the show.
The name Yamato refers to the name for ancient Japan during the eighth century. The troupe's performers, furthermore, live in Nara, Japan's ancient capital, which has become the cultural capital of this drumming art, Ogawa said.
It is this cultural history that the members of Yamato said they wish to impart on their audiences through the show.
"I want the spirit of Yamato to touch audiences around the world. I want those who come to our performances to leave the theater energized," drummer Akiko Ogawa stated in a press release.
While Masaaki Ogawa said "the spirit of Yamato" could not easily be defined, he said it, in part, has to do with fostering a connection between the performers and audience through the drumming.
"The drumming actually represents the heartbeat of people so the performers are trying to establish those spirits together - we are living together by hearing that heartbeat," Masaaki Ogawa said. "To make sure that we are living, and make sure that we have to establish something, that is the so-called spirit of Yamato."
More than just its cultural side, though, playing the wadaiko drums - which can range from 6 inches to 6 feet in diameter - requires ample athleticism.
Masaaki Ogawa said the performers of Yamato begin their day by running 10 kilometers, followed by weight training.
"And we do this kind of motion," he said, simulating the beating of drums, "to the sky, to nature. We need to be powerful to perform for two hours." Masaaki Ogawa called this "image training."
Tonight's performance, which Masaaki Ogawa said the group is looking forward to, is divided into several rhythmic vignettes, each organized around a specific theme and lasting 10 to 12 minutes.
The performance is at 8 p.m. Tickets vary from $26-$38, depending on seating location. There are student discounts. Tickets can be purchased through the Centennial Hall box office at 621-3341. The "Arts Encounter" presentation will held in Social Sciences 100.