House shuts down after anthrax scare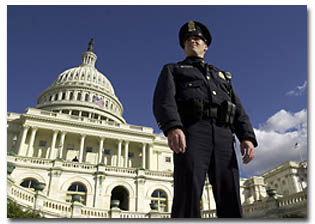 Associated Press
U.S. Capitol Police officer Jonathan Getz stands watch outside the U.S. Capitol in Washington yesterday. Congressional leaders ordered an unprecedented shutdown of the House on Wednesday after more than two dozen people in Senate Majority Leader Tom Daschle's office tested positive for exposure to a highly concentrated form of anthrax.
By Associated Press
---
ARIZONA DAILY WILDCAT
Thursday October 18, 2001
WASHINGTON - More than 30 Senate employees were exposed to anthrax when white powder fell from mail addressed to Majority Leader Tom Daschle, officials said yesterday. The disclosure spread concern and confusion across Capitol Hill and quickly curtailed official business.
"We're in a battle with terrorism, a new form of human warfare," said House Democratic Leader Dick Gephardt. Officials confirmed evidence of exposure in a second Senate office - adjacent to Daschle's suite - as well as spores in the Senate's central mailroom in a building across the street.
House leaders shut down operations through the weekend to allow for extensive testing, and the Senate announced plans to close all three of its sprawling office buildings but said it would still convene today.
In all, Daschle told reporters, 31 people "had positive nasal swabs," indicating exposure to anthrax. The group included 23 members of his own staff, five law enforcement personnel and three aides to Sen. Russell Feingold, whose office adjoins Daschle's on the fifth floor of the Hart Building across the street from the Capitol.
Feingold, D-Wis., told reporters that none of his aides who had tested positive for exposure had been in Daschle's office on Monday, when the letter was opened.
As developments unfolded in the Capitol, Dr. David Fleming of the Centers for Disease Control and Prevention announced that preliminary testing indicated the strain of anthrax found in a letter addressed to NBC anchorman Tom Brokaw in New York "appears to match the strain in Florida." Two Florida men have contracted anthrax, one of whom died. Fleming said it is not yet clear whether the Washington anthrax comes from the same strain.
Officials worked quickly to ease public concern. "There is no evidence ... absolutely no evidence of infection at this point," Daschle said, words that Feingold later echoed.
"It is treatable," Daschle added emphatically at a news conference later in the day, and officials said the strain that was found responded readily to a range of antibiotics.
Standing at Daschle's side, Army Maj. Gen. Jon Parker of the Army's testing laboratory at Ft. Detrick, Md., told reporters the powder contained a "common variety" of anthrax.
At the same time, Scott Lillibridge, an expert on bioterrorism at the Department of Health and Human Services, said, "There's been some attempt to collect it, perhaps refine it and perhaps make it more concentrated. That seems certain."
Long lines quickly formed as employees sought tests and the three-day supply of precautionary antibiotics that health officials were distributing.
House Speaker Dennis Hastert, R-Ill, said that "to ensure safety we thought it best to do a complete sweep, an environmental sweep." The House wrapped up its business at mid-afternoon and sent its staff home, until at least Tuesday.
There was cause for bioterrorism concern elsewhere, five weeks after terrorist attacks that killed more than 5,000 people in New York and Washington.
The midtown Manhattan office of Gov. George Pataki was shut down after an initial test detected the presence of anthrax. The governor announced that about 80 employees had been evacuated. "The odds are very high" that subsequent testing will confirm the presence of the bacteria, he said, although thus far, no one had become sick.
Four people have been confirmed ill with anthrax in the past few weeks, including a Florida man who died after contracting an inhalation form of the bacteria. A second Florida man is hospitalized with a similar form of the disease.
Two New Yorkers, an NBC news employee and the 7-month-old son of an ABC news producer are being treated for the less-dangerous skin form of the disease.
Separately, three government officials said Wednesday there was no evidence of any foreign or terrorist involvement in the powder contained in the letter to Daschle, although they continue to investigate that possibility. One official said there was evidence that could point toward a domestic culprit.
The Daschle letter is postmarked Oct. 8, and the return address is: "4th Grade, Greendale School, Franklin Park, NJ 08852." Justice Department officials said there is no such school.
The day produced a blizzard of details, sometimes conflicting, and sometimes inaccurate.
Hastert and Gephardt appeared together at midmorning to announce that the House would shut down. The speaker made the initial disclosure that 29 people had tested positive in the Senate, and said spores had been found in the Senate mailroom. He also said evidence of anthrax had been found in the Senate's ventilation system and tunnels.
Senate officials quickly spread the word that wasn't the case, then suggested House leaders had overreacted with the decision to curtail business.
Hastert said House and Senate leaders had agreed on that course of action earlier in the day, but it appeared some senators balked, preferring a gesture of defiance in the face of the threat from terrorists.
Strikingly, though, one lawmaker expressed concern that House leaders weren't responding quickly enough.
"Why are we staying another three hours and continuing to possibly expose employees of this building?" asked Rep. Patrick Kennedy, D-R.I.
"There's no need to be concerned about having to rush out of here," replied Majority Leader Dick Armey, R-Texas.
Across the sprawling Capitol complex, there were other expressions of concern.
"People up here have been absolutely incredulous at the ineffectiveness of the Senate on this," said Leroy Towns, chief of staff to Sen. Pat Roberts, R-Kan. Towns was tested Tuesday morning.
"This is the first (congressional) building that has had an anthrax confirmation case in it - there are now 31 cases of exposure in it - and still the building has not been shut down. Still tourists are coming and going."