UA football notes: Huskies show one Wildcat mercy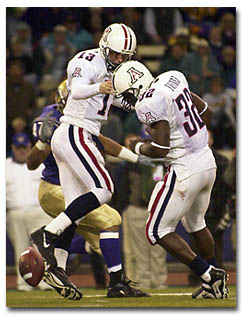 Associated Press
UA freshman quarterback John Rattay and sophomore running back Clarence Farmer watch as a fumbled ball falls to the turf at Husky Stadium Saturday during their game against Washington. Rattay performed better than expected, according to UA head coach John Mackovic, but isn't being considered as a possible replacement for the starter Johnson.
By Connor Doyle
---
ARIZONA DAILY WILDCAT
Tuesday October 23, 2001
Senior defensive end Johnny Jackson, who was injured during the game against Washington Saturday and eventually taken to a Seattle hospital for precautionary reasons, is suffering from what UA head football coach John Mackovic describes as "whiplash." While Mackovic was worried about his player, who intercepted a pass during the game, he was also thankful for the treatment the Washington medical staff gave Jackson.
"I would like to say how much I appreciate the University of Washington and their staff for the way they arranged transportation, hotels, medical treatment and everything (for Jackson)," Mackovic said. "I believe we could not ask anyone to do more for us, and we are indebted to them. Their team doctor was great, their trainer and everybody involved went out of their way to make sure that (UA trainer) Matt Radolet and Johnny were well provided for and taken care of."
---
The injury bug didn't hit the Wildcats too hard after this game. Besides Jackson, sophomore offensive lineman Reggie Sampay suffered minor shoulder and ankle injuries, but is expected to play Saturday against USC.
Senior linebacker Mike LaCoss suffered what is believed to be an ACL tear, and will have surgery within the next two weeks. He is not expected to play for the rest of the season.
Both junior quarterback Jason Johnson and his backup, freshman John Rattay suffered concussions against Washington, the latter coming as a result of a sack on the last play of the game. Rattay also needed several stitches in his chin. Mackovic said both have been cleared by the medical staff to play.
---
Rattay's solid performance in relief on Johnson opened some eyes on the coaching staff. The backup scored a touchdown and led the team on another drive that resulted in a Clarence Farmer touchdown. Mackovic said the expectations are never set too high when a backup is asked to play the rest of a close game.
"A lot of times when a (backup) quarterback comes into a situation like that where you realize he's going to play the rest of the game, it makes it tough because you have to limit your game plan because of the lack of practice time a backup gets," Mackovic said. "John used his legs well - that touchdown run he scored on was a really good play. We also used a quarterback draw with him that we wouldn't use as much with Jason. I think he did as well as could be expected in those circumstances."
The coach wasn't the only person impressed with Rattay's composure.
"I think John was awesome," senior wide receiver Malosi Leonard said. "Especially, because when Jason came onto the sideline and said 'John get ready get ready,' he started warming up. Coach Mackovic said 'this isn't a bullpen, get in there.' Poor John's arm was freezing cold up in Washington. (Mackovic) kind of shoved him in there. He didn't have any worry in his eyes. I was really proud of John."
However, Rattay's performance isn't the harbinger to a quarterback controversy - Mackovic said he was impressed by Johnson's performance until the starter was knocked out of the game, and plans to stick with Johnson against USC.
---
Mackovic decided to make a shift on his offensive line for the Washington game, and may decide to stick with it for the rest of the season.
Senior Steven Grace, who had been the center for the first six games of the season, was moved to the guard position, and Sampay was moved to center. Mackovic said the move allows him to put the bigger and more experienced Grace into one-on-one blocking schemes against opposing tackles, and felt the tactic worked so well he's considering sticking with it for the rest of the season.