Go blow it somewhere else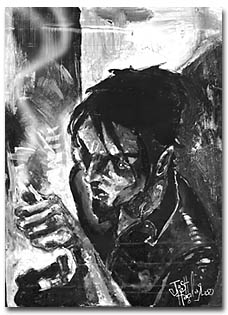 Illustration by Josh Hagler
By Laura Winsky
---
ARIZONA DAILY WILDCAT
Tuesday October 23, 2001
Cold and flu season has descended upon us once again, and you know what that means. You went to bed feeling just fine last night, but you woke up this morning feeling like a truck hit you. Your head feels like it weighs a ton, and it's as if spelunkers are slowly rappelling down your throat with picks and shoe spikes.
Here's the clincher. You're dragging yourself and your backpack full of what feels like rocks to class when it happens: The person approaching you along the cramped sidewalk takes a big puff and then blows smoke right in your face. Concentrating on his beloved tobacco, he didn't see you sniveling and coughing your way into Economics. Yes, it's irrational, but you want to grab the person and throttle them. Taking his neck in both hands, you yell with wild eyes, "It's allergy season. Everyone around you is miserable, fighting pollen and mold. I have the flu. I can't breathe. It hurts when I cough. I can't feel my nose. My head is going to explode, and you just blew ash into my mouth!"
While this approach may be gratifying, it could also be construed as assault. But fear no more, my fellow smoke-free amigos, for a little-known, brand-new University of Arizona policy was implemented this summer, and it appears enforcement of this policy is just around the corner.
You may remember the big brouhaha last year over the university's smoking policy. Risk Management and Human Resources teamed up with Campus Health to initiate a policy to restrict campus smoking in and around building entrances. Many were for it, and others felt it was a breach of their personal smoking freedoms. I, and my allergy-sensitive lungs, did a little dance when I heard - and I'm not alone. According to Melissa McGee, who was a key member of the Health, Wellness, and Safety Committee that put together this policy, 72 percent of UA students polled at the time had not smoked in the past 30 days.
At the time the committee began its work on the policy, several building managers on campus already took it upon themselves to create their own rules and regulations about smoking in and around their lobbies. Some building policies have rules establishing a 50- to 100-foot area of non- smoking, some as little as 15 feet. According to McGee, the committee "decided to choose a middle-of-the-road requirement of 25 feet."
Once the policy took shape, the committee approached student groups around campus. "We were amazed at how little resistance we received. The governing bodies gave us unanimous support," said McGee. The policy was approved over the summer, and it was publicized in various ways. Campus Health has really taken the policy seriously with its building.
Teri West, administrative assistant to Harry McDermott, said that Campus Health "will put up signs as soon as facilities gets them done. They will then be placed appropriately." These signs will prohibit smoking on any part of the patio area around the building, which will be more than a 25-foot restriction. The discrepancy is explained in two ways. One, each building's management has the capacity to interpret the policy the way it sees fit. And two, students who visit Campus Health often suffer from upper-respiratory illnesses. Apparently, smoke in the face is not a known cure.
Admittedly, the enforcement of this new policy will be challenging, as Melissa McGee noted. It will be up to each department head of each university building to monitor and enforce as they see fit. So how does this affect students? Take the Modern Language building's breezeway.
Breezeway? What a joke. It ought to be called the Modern Language's Smoke-Infested, Hold-Your-Breath, Gasp-Your-Way-Through-Way. The new policy will change all that soon. The middle section features two glass doors that face each other - smokers must find a spot 25 feet from those entrances. The patios on each floor, and the benches lining the breezeway are all within 25 feet of an entrance.
So long, cancer ash.
Don't worry, you have some time to quit before the policy takes affect. Here's a way to do it. Each time you light up, think of the 72 percent of UA students who don't smoke, and think that kissing a smoker is like kissing an ashtray. That ought to work like a charm.