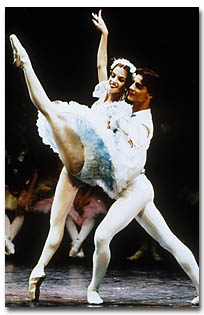 Photo courtesy of Paco Ruiz of ICM Artists
Company members of Ballet Nacional de Cuba perform the classical ballet "Coppelia." The company's U.S. touring group performs tonight at Centennial at 7:30.
By Lisa Lucas
---
ARIZONA DAILY WILDCAT
Tuesday October 23, 2001
Ballet Nacional de Cuba shows one-time performance tonight at Centennial
Alicia Alonso, the nearly blind founder of the successful ballet company Ballet Nacional de Cuba, may have been sprinkled with some kind of dance fairy dust when she was young, for there is something magical about her success.
The talented Alonso ironically made her professional debut in 1938 with the musical comedy "Stars in Your Eyes" before developing trouble with her own eyesight in 1941, according to a press release.
"(In 1941) Alonso began to have trouble with her eyes and eventually became virtually blind, despite surgery," a press release stated. "But her incredible memory for ballet movement allowed her to continue her dream."
According to the same press release, within the next 10 years - after facing almost total loss of vision - Alonso founded her own company and dance school in Cuba, emphasizing both classical and contemporary ballet movements.
The result - Ballet Nacional de Cuba - is now in its 54th year as a professional Cuban ballet company.
Oscar Torrado, a sixth-year company dancer, said Alonso - who now serves as a company choreographer - is still working every bit as hard as she did when she was dancing.
"Alicia before was a very important dancer from the 20th century and now she's a choreographer master - she's working in the company every day," he said. "I think she has a very good head because the company has (been established for) 54 years, and now the company is very important not only in Cuba but all over the world."
Torrado added that the company focuses on the classical ballet style rather than romantic or neoclassical. Each style uses different body and arm positioning in its movement, he said.
"You work everything different - the position of the arms (and) of the body is different," he said. "(Alonso) says what she wants (is) respect to the (classical ballet) style."
In tribute to Alonso's success as both a dancer and a choreographer, her touring ballet company will perform "La Magia de Alonso" tonight at Centennial Hall to celebrate the successes of the company's founder.
Torrado said 50 dancers - comprising only about half of the company's total members - are currently on the U.S. tour and will appear tonight on the Centennial stage.
"We do different parts (of) very different ballets - 'Giselle' and 'Swan Lake' - the public can see many different styles in a night. (It's) like a collage," Torrado said.
Torrado said the past success of "La Magia de Alonso" should roll over into another successful performance at the University of Arizona.
"The Ballet Nacional will be enjoyed at the performance because this program - this series - is very, very successful," he said.
"La Magia de Alonso" shows tonight at 7:30. Admission ranges from $36 to $48, with discounts available to UA students, faculty and staff. For ticket information call 621-3341.
Before the show, adjunct dance professor James Clouser will present a free "Arts Encounter" to promote better understanding of the performance at 6:45 p.m. in the lobby of the Arizona State Museum.