Anthrax scare hits Islamic Center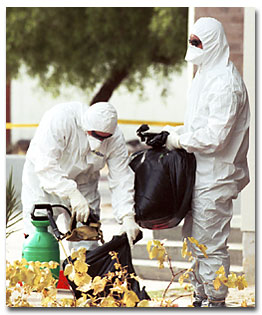 DAVID HARDEN
Firefighters Garland Parris and Bryce Womack clean up after inspecting a suspicious letter thought to contain anthrax yesterday at the Islamic Center of Tucson. After testing, the Tucson Fire Department found no signs of anthrax.
Tuesday October 30, 2001
Police officials play it safe after center receives envelope containing white, powdery substance
The Islamic Center of Tucson received a letter yesterday afternoon that they suspected contained anthrax, but tests revealed the suspicion was false.
The letter had a sticky substance on the outside of the envelope and a white, powdery substance inside. The recipient, Omar Shahin, Imam of the Islamic Center, called police.
Both the Tucson Police Department Bomb Squad and Tucson Fire Department responded to the scene. The front of the center, situated at 901 E. First St., and seven people who were inside that area were quarantined from the rest of the building.
The school in the rear of the building was in session at the time of the incident.
The envelope displayed a return address that Shahin said belonged to a lawyer in Phoenix. As of yesterday afternoon, the lawyer had not been contacted.
Fire officials entered the building wearing oxygen masks and white suits that covered their entire bodies. They removed the letter and disinfected the room where the letter was opened.
Police said the reaction to the suspicious letter was especially necessary because of the children who occupied the building.
"We're going to send (the letter) to a local lab to see if it's a biological material," said TPD Sgt. Patti Thibaut.
Since anthrax is a living organism, any suspicious substances must demonstrate a biological characteristic to warrant suspicion.
After waiting about one hour, fire and police officials deemed the building safe.
Shahin said that when he became concerned about the letter, he followed the procedures set forth by the FBI for people who are suspicious about their mail.
"I turned off the air conditioner, washed my hands four or five times and called the police," he said.
Shahin said he was frustrated as well as relieved.
"It interrupted me in the middle of my job, but when you get a letter that was sticky and you have students and parents in the building, you want to play it safe," he said.