3,800 parking citations per month help fund UA Parking Services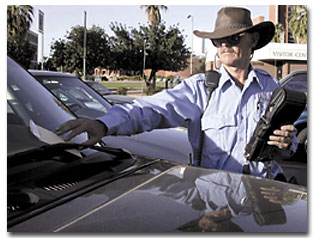 KEVIN KLAUS
Parking and Transportation enforcement officer John Prann, distributes a parking ticket yesterday afternoon at the Visitor Center parking lot. About 3,800 parking citations are issued per month to illegally parked vehicles.
By Tyler Wager
---
ARIZONA DAILY WILDCAT
Tuesday October 30, 2001
Money collected from the 3,800 parking citations issued per month provides funds for a wide variety of services, a Parking and Transportation Services official said.
PTS depends on the citations - along with other forms of revenue - to provide funds for wages, equipment, garages, lot maintenance, lighting, Cat Tran shuttles and disabled cart services, said Joyce Childers, parking programs coordinator.
The 3,800 citations a month include warnings for permit violations that are issued to first-time parking offenders for parking in the wrong place or improperly displayed permits.
Parking warnings - which are not accompanied by a fine - account for 35-40 percent of tickets issued, Childers said.
Last year, 46,000 parking citations and warnings were issued. People who receive citations have 14 days to appeal.
"The appeals officer looks at dates and the person's history of citations; sometimes a meter will be checked," Childers said.
Childers said that implementing the use of warnings for first-time permit violators has caused a decrease in the number of appeals.
PTS employees enforce parking from 6 a.m. to midnight on weekdays, and officers work four-hour shifts on weekends. Parking enforcement officers are not associated with UAPD.
PTS is an auxiliary organization - meaning that it supports itself and pays an annual fee to the University of Arizona.
Its revenue comes from citations, permit sales, athletic event parking, visitor parking in garages and meters.
Between one and six officers are out patrolling at any given time, but the number typically ranges between two and four. They divide the campus into four quadrants and give citations for improper parking in load zones or disabled spots, permit violations and meter violations from 7 a.m. to 5 p.m.
At night, safety violations are the main citations.
"We're protecting our paying customers' parking privileges - if we didn't cite the people who park improperly, they would just sit there. If I pay for a parking permit, I expect to find a spot," Childers said.
John Prann, a parking enforcement officer, estimated that he cites about 30 vehicles per day. "It varies quite a bit depending on class schedules and what's going on," Prann said.
One of the methods used by enforcement officers to keep track of improperly parked vehicles is chalking tires, then returning later to see if the chalk is still there.
"If you've got somebody parked in a load zone, you can chalk the tires and come back," Prann said.
Visitors from the University of Mexico who were ticketed for a meter violation said the citation is too expensive.
"We just went to the library and stayed a few minutes too long, this ticket is for $20 and that's too much money," said Jaime Lizardi.