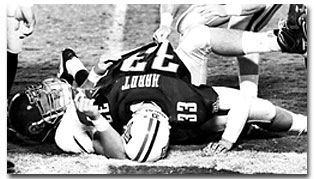 KEVIN KLAUS
UA sophomore safety Clay Hardt lies unconscious on top of a USC player as another Trojan attempts to pull him up during Saturday's game in Arizona Stadium. Hardt knocked himself out when he wedge-busted during a USC kickoff return.
By Maxx Wolfson
---
ARIZONA DAILY WILDCAT
Tuesday October 30, 2001
After finally getting back into action after missing the first six games with an ankle injury, senior defensive end Eli Wnek might miss more action.
He pulled his hamstring Saturday in the 41-34 loss to Southern California.
"I call it a training camp injury," head coach John Mackovic said. "I feel for him since it was only his second week back."
Junior free safety Clay Hardt will have to see doctors and a neurosurgeon before he is cleared to play after he suffered a concussion in the third quarter on a punt return.
Sophomore center Reggie Sampay, who played some downs in Saturday's loss, is still uncomfortable with a shoulder injury. His status this week is questionable.
Freshman Keoki Fraser spelled Sampey in the game.
Sophomore tight end Justin Levasseur missed the USC game because he came down with a case of the flu.
"He came Saturday but we sent him home," Mackovic said.
---
After seeing replays of junior wide receiver Bobby Wade's kickoff return, Mackovic said he thinks Wade was in bounds.
Replays showed that Wade was clearly in bounds on what would have been the go-ahead touchdown with a little over two minutes to play in the game.
This is the second close call by officials in the past two weeks that might have cost the Wildcats victories.
Two weeks ago against Washington, sophomore cornerback Michael Jolivette's facemask was clearly grabbed and pulled down by freshman wide receiver Reggie Williams on the play before UW quarterback Cody Pickett's game-winning touchdown.
"I don't think there is a bias against Arizona like some people might think," Mackovic said. "I believe that everything evens out over time."
Junior quarterback Jason Johnson said he is not concerned with the officials.
"They are doing the best job that they can," Johnson said.
---
The game-winning interception return by USC cornerback Kris Richard was on a play that Arizona had success on a couple times earlier in the game.
Johnson completed a 40-yard pass to sophomore wide receiver Andrae Thurman on the exact same play earlier in the game.
"I think Richard baited Johnson a little on that last play," Mackovic said. "That play is not a high-risk play. He just made a break on the ball."
Johnson said he just wants to put that pass behind him.
"There is really nothing you can do about it now," Johnson said. "Malosi (Leonard) was trying to stretch the play to eight yards. I'm just going to take that experience and turn it into something positive."
---
Coming into the season, the tight end position was expected to play a large role in the passing game.
However, since Pacific 10 Conference play started, only five passes have been completed to three tight ends - senior Peter Hansen, junior James Hugo and Levasseur.
"It's a failure on our part as a coaching staff that we haven't gotten the tight ends involved," Mackovic said. "We have had to use them more in pass protection."
Known for his field-goal blocking abilities, Hansen caught his first career pass Saturday night.
It was a five-yard completion with only minutes remaining in the fourth quarter.