Commentary: Should I stay or should I go?
By Maxx Wolfson
---
ARIZONA DAILY WILDCAT
Tuesday October 30, 2001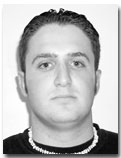 Maxx Wolfson
When I first heard that UA sophomore guard Travis Hanour left the basketball team, I questioned whether I should stay at the Arizona Daily Wildcat.
I thought Hanour had it made here. He was going to get some playing time for a team that was in the NCAA title game last year. Who could ask for more?
Now, at best, he is going to transfer to a West Coast Conference school like Pepperdine or Loyola Marymount and have to sit a year out.
So, I was thinking to myself - could I get better article placement and editorial powers at other papers?
I have taken a couple of factors into consideration on what school would best fit my needs.
First of all, I'm sick of my football stories getting buried behind smaller sports like hockey and women's volleyball. Don't get me wrong - both these sports are very newsworthy, but come on. Neither can compare to football, even if the team is in danger of not winning a conference game all season.
Take today's issue into consideration - my football notes are sharing time with briefs? Are you kidding me? If you think that's bad, yesterday had my home football game story buried under the volleyball game! Would this ever happen at a school like Notre Dame or Miami? I don't think so.
I'm the freakin' assistant sports editor, and I still get no love!
Even worse, I've been here three years - meaning I'm the most tenured sports writer here - and I still haven't covered men's basketball. Not like I would want to suffer through what could be a long season this year, but it still will be better than the football team's season.
The pay here makes it tough enough to take myself out to dinner, which leaves taking a date out to dinner something I have to save up for months to do. Not that I have to worry about it - I can't get any girls to believe I write for the paper, because no one ever sees my stories, being that they're buried under women's soccer stories a couple times a week.
"No, I'm not interested in you," one girl said at a bar to me. "But who's that Brian Penso guy?"
Unbelievable. I get it all the time.
I'm sure that if I transferred to another school, they would treat me better. I mean, not too many students would want to spend their entire week in a cramped newsroom with artificial lighting.
So here are a few options:
USC - I'm sure getting a job at the Daily Trojan couldn't be too hard if our assistant news editor, Jeff Sklar, used to be an editor over there. I don't know about covering their football team either, though. During the O.J. Simpson era, it would be unheard of for a USC team to not make a bowl game and now it might happen for the third-straight season. I would think volleyball would get top dibs over the football team on most days. Plus, I would have to go to school with kids who don't know what a job is. I couldn't handle that.
Arizona State - That would be like me transferring from the Los Angeles Times to the Mansfield Middle School News. I'll take the Wildcat over the State Press any day.
Neither of these schools seemed like the right fit, so I decided to check out some of the schools that other former Wildcat basketball players transferred to.
New Mexico - I figured that Ruben Douglas, another Wildcat basketball player that transferred from UA, had the right idea. But then I realized that I would have to move to Albuquerque and crossed UNM off my list.
Lithuania - remember that big 7-footer Robertas Javtokas? Yeah, him. Well he used to go here last year and played maybe six games. He decided that he had enough of getting an education and living in a free society and moved back home to Lithuania. I'm sure the Lithuanian girls would love a guy from Southern California. But come on, Lithuania is way too close to Afghanistan and that is not an area I want to be around right now.
Iowa - Yeah, this is where Luke Recker went. You know, the guy who would have made the difference last year in our championship run?
It would seem that covering a bad Big -Ten team would be much better than covering a bad Pac-10 team, right? Wrong. Two of the non-conference games that Iowa played this year were against Miami (Ohio) and Kent State. Plus, I couldn't handle the cows and corn. I'm a SoCal. Talk about a transition. At least here at UA it seems that everyone is either from Southern California or pretends to be from Southern California.
So, I think I have decided that staying at UA for the time being is my best option. Truth is, it would have been Hanour's best option, too. He should have talked to me. But, I guess he's just dying to become a Gaucho or Banana Slug, or whatever.
Sucker.