Considering the Muse: a wonder of inspiration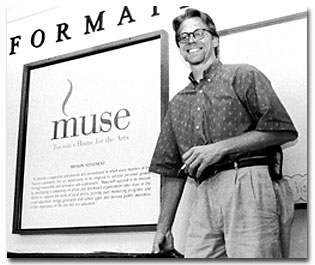 DAVID HARDEN
Muse director of development and marketing Steve Anderson is in the early stages of an art after-school program that will begin later this semester. He said volunteers and interns who want to help with the program are greatly needed
By Anne Owens
---
ARIZONA DAILY WILDCAT
Tuesday October 30, 2001
Newly renovated YMCA building offers classes this fall
The Muse School of Art, opening for classes this fall, offers workshops and a variety of classes. The school is also seeking interns from UA.
"We're looking for interns to do a variety of jobs, including marketing, fundraising and curating," said Steve Anderson, Muse's director of development and marketing. "We'll also be turning to U of A students this summer to be teachers and counselors. It's a great summer gig for art students."
Students are encouraged to start calling and sending in resumes now.
The school offers a variety of classes, including courses on mosaic, photography, clay modeling, multi-media design and painting and drawing classes.
Susan French, the instructor of a class called "Express Yourself on Canvas," wants everyone to know that they're welcome at the school. More than welcome, they're encouraged to attend.
"I talk to so many people who are intimidated or have been discouraged," French said. "They have stories like 'my mom told me that I should just stick to academics,' or something similar from a teacher or friend. I want people to know that when they come to this class they won't be expected to perform."
The school is located in the city's old YMCA building, which was built in the late '40s. The building is undergoing renovation.
"When the building was new, it was a great source of civic pride for Tucsonans," Anderson said. "When the new YMCA was built, the building went vacant for a long time, and it got pretty beat up. We're rehabilitating it and maintaining its history. We're putting up a permanent exhibit dedicated to the Y campaign. We're reflecting the old mission, and we also have new management and a new mission. Our new mission is to serve the community."
The renovation offers locals a new look at a building most have only seen as vacant.
"It's really great to see a building that sat dormant for so long turn into something that the community can really use," French said. "Most people just remember it as an old building with an empty pool, but it's been turned into something everyone can enjoy and be proud of. It's a great place to take classes, see shows and watch artists work. It's friendly toward everyone, not just artists."
The building, the renovation of which Anderson said he hopes will give locals a new source of civic pride, offers a variety of services to the community. The building is currently home to 30 artists' studios, a children's theater company, the Tucson Blues Society and rents out space. The recent production of "The Vagina Monologues" was held in the building.
The building is the current host to "Promise Lands and the Netherworld," a visual arts exhibition that includes paintings and sculpture.
"It's really something you have to see to believe," Anderson said. "We were lucky to grab it before it left town."
The project goal is to turn an old building into something that will inspire creativity.
"Muse is named for the Muse goddesses who inspired artists and writers," Anderson said. "We want to become a place that people will be inspired by, whether it's an artist or just an average Joe who comes to see a show."
French said she hopes to unify fledgling artists through a receptive, friendly environment.
"We're providing a platform for people to just have fun. We want to reach out to the people who might not think that they can do it. A lot of people are concerned about going into a class and feeling that they have to do well. There isn't any kind of judgment here. There's no right or wrong, just self expression."
Muse can be contacted at 903-0918.