UAB jazzes up union scene, makes weekly grooves accessible to all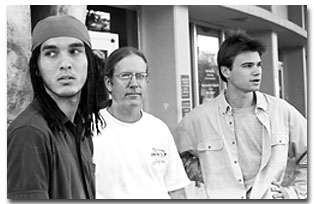 DAVID HARDEN/Arizona Daily Wildcat
Fuzzy Jazz will perform tomorrow night at the Park Student Union. Park Student Union will host bands through the end of the semester.
By Anne Gardner
---
ARIZONA DAILY WILDCAT
Tuesday October 30, 2001
It's jazz, only not quite traditional.
Jazz music fused with different styles has become the latest thing to hit the Park Student Union.
Sponsored by the University Activities Board, jazz band performances on Wednesdays from 9 p.m. to 10:30 p.m. have become regular entertainment at the PSU.
Hannah Clayborne, UAB coordinator for campus activities, began the program last semester and has seen it through this year so far.
"We selected jazz bands because of the reaction in the past," Clayborne said. "There seems to be a very strong interest in the program."
Two jazz bands in particular are being featured by the UAB - Fuzzy Jazz and the University of Arizona Studio Jazztet.
Fuzzy Jazz is a mix of jazz influenced by Charlie Parker and the Be-bop era, funk influenced by Stevie Wonder and virtuosity influenced by Bela Fleck and the FleckTones.
The three-man band consists of UA students. Performance senior John Aylward plays the piano, performance senior Chris Lytle plays electric bass and music senior Dan Kruse pounds the drums.
Fuzzy Jazz was created three years ago when Aylward and Lytle began to collaborate on some jazz tunes.
"Fuzzy Jazz is about art jazz," Aylward said. "We're trying to modernize traditional arrangements and create authentic arrangements that don't follow the standard jazz form."
In the standard jazz form, members take turns soloing during the tune, which is repeated indefinitely. Fuzzy Jazz incorporates combinations of songs and jazz philosophy behind traditional arrangements.
"The audience digs that," Alyward said about the variation. "People want to hear these fusions."
Another jazz group doing the very same thing with their music is the next band to be featured in the UAB's series at the Park Student Union - the UA Studio Jazztet (UASJ).
With music education junior Michael Harrison on trumpet, performance junior Ben O'Shea on trombone and music junior Bryan Hicks on alto and tenor saxophones, UASJ is performing for its second year. The group's rhythm section is comprised of performance junior Akila Fields on piano, music junior Aaron Hubbard on bass and performance senior Jack Sterbis on drums.
"There's a broad range of what we listen to," O'Shea said, commenting on the inspiration for the group.
The ideas for different styles of music carry over into the image of the band.
"I don't think we can be classified in one category," Harrison said. "We try to play everything - we don't want to limit ourselves."
UASJ plays original compositions by members of the group as well as arrangements of jazz in styles such as bop, blues and swing.
For UASJ, this is a first in collaborating with UAB. Harrison said he looks forward to the experience next month at the student union.
"It brings jazz to a wider audience - to the UA population, which is good because a lot of times kids are stuck on campus or they can't get into the bars to see these bands because they're underage," Harrison said.
Fuzzy Jazz will perform its last show of the month tomorrow from 9 p.m. to 10:30 p.m. in the Park Student Union.
UASJ will perform every Tuesday of the month of November starting on Nov. 6 from 9 p.m. to 10:30 p.m. Admission is free.