Halloween safety not a major concern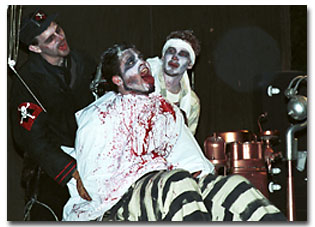 AMY WINKLER/Arizona Daily Wildcat
Tucsonan Juan Heinrich posing as Irving, sitting, is operated on by mechanical engineering senior Marc Schmalzel playing Mr. Cobb, left, and Tucsonan Greg DeBendetti posing as Sam, in the Nightfall performance titled the Art of Science earlier this month. Nightclubs and other venues celebrating Halloween said they will celebrate the holiday as usual despite safety concerns.
By Carrie Stern
---
ARIZONA DAILY WILDCAT
Wednesday October 31, 2001
Bars, clubs will not take additional security measures in light of attacks
Nightclubs and other Halloween party spots will continue with planned celebrations tonight despite concerns about safety sparked by last month's terrorist attacks and a rash of assaults around campus.
With the FBI's announcement earlier this week that it had "credible information" about a possible terrorist attack, FBI Director Robert Mueller recommended that police and citizens be "extremely vigilant."
Local bars and clubs will be conducting business as usual, with activities such as dancing, drink specials and costume contests continuing as planned. These venues step up security every Halloween, and many managers do not expect major problems this year.
"I don't think we're going to be a main target," said Steve Gutbub, general manager of O'Malley's on Fourth, 247 N. Fourth Ave.
David Slutez, manager of Club Congress, 311 E. Congress St., said people are typically rowdier than normal on Halloween.
"If anybody tried anything, they wouldn't get noticed," he said.
Viewpoints
Several recent assaults around campus and the FBI's statement that it has "credible information" that there will be a terrorist attack somewhere in the United States this week have prompted people to be more wary of personal safety. The Daily Wildcat asked students how these concerns will factor into their plans for Halloween.
---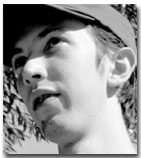 "It doesn't worry me too much, as far as terrorist acts and such. Where I am is of no importance."
Chris Bertrand, undeclared sophomore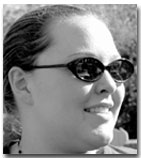 "I'm just going to do the same things I usually do, maybe get dressed up and give out candy to the kids."
Kristen Blodget, media arts freshman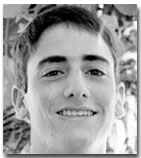 "I'm not going to do anything out of the ordinary, but I still have some concern in the back of my mind."
Steven Filoso, atmospheric science sophomore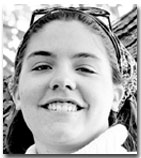 "I refuse to be doing anything differently this Halloween. There should always be some level of caution, but paranoia works to their advantage, not ours."
Hillary Hastreiter, business and economics freshman
- Compiled by Carrie Stern/Photos by David Harden
However, he said that security is always tight at Club Congress.
Similarly, many students are not overly concerned about safety tonight and do not expect that warnings of possible terrorist attack will affect their plans.
"On Halloween, I'm going to be doing everything I've done before - trick-or-treating and dressing up, like nothing ever happened," said Sarah Chavez, a family studies freshman.
Yuma Residence Hall is going ahead with its annual Haunted Dungeon as planned, but will donate this year's proceeds to the American Red Cross's disaster relief efforts.
The Haunted Dungeon is organized each year by Yuma Hall's student government. The event takes place in the basement of the residence hall, where vacant maintenance rooms are converted into a narrated haunted house.
"The basement itself is pretty creepy. We could probably have people just walk through and get scared," said Teresa Blevins, a resident assistant at Yuma. Admission is $2 or two cans of food.
Cmdr. Brian Seastone of the University of Arizona Police Department said that this Halloween, only the usual precautions will be followed on campus. There will be no new restrictions or actions, but Seastone recommends that partygoers think carefully about their choice of activities and costumes.
"However they dress, if students decide to go out and party on Halloween, full face masks would not be prudent," Seastone said, referring to the increased possibility of violence. "And if you're out partying, please don't drink and drive."
Safety concerns have also arisen because students near campus have been victimized by assaults in recent weeks, and UAPD has urged students to take care when walking around campus at night.
SafeRide - an escort service offered by the Associated Students of the University of Arizona - also operates near campus from dusk until 12:55 a.m. As of yesterday afternoon, SafeRide officials said they planned to offer limited service tonight, mainly to academic buildings, and not to parties. Students who wish to use the service should call 621-SAFE.