Lawfulness key to traffic safety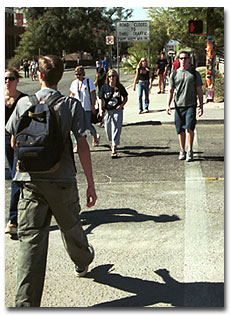 DAVID HARDEN
Students cross a busy intersection while the "Don't Walk" sign is lit at Second Street and Mountain Road. Officials said that students - especially bicyclists - should follow all traffic laws to maximize their safety when walking in heavily trafficked areas.
Wednesday October 31, 2001
Officials say bicyclists may observe the same traffic laws as drivers
As construction congests the major arteries of the university, officials say that pedestrians, bicyclists and drivers must follow all traffic laws to minimize safety risks.
The construction of the Student Union Memorial Center has left the East Second Street corridor between North Highland Avenue and North Mountain Avenue in gridlock during morning and evening rush hour.
Officials say thousands of people using all modes of transportation converge on the area every day, creating a slew of near misses.
They said the best way for all people who frequent any intersection to avoid accidents is to obey the laws.
A truck moving Monday at a high speed narrowly missed a student in the crosswalk near the garage.
"If there's a lot of people, they'll stop," said Jessica J. Lee, a speech and hearing sciences sophomore. "It's annoying, but I'm used to it."
Some students say pedestrians simply walk in front of cars without looking, while others say they fear the day they might be run over by a bicycle.
Another student walking along Second Street crossed Mountain Avenue even though the "don't walk" light was activated. She said that if there is no traffic, waiting for the light to change is a waste of time.
"If I stopped there and waited every day, I'd be losing an hour a month," said Elizabeth Simpson, psychology freshman. "I think a stop sign would do well there,"
Steve Holland, director of risk management, said extra traffic signs have been added in the corridor, but that it is up to law enforcement officers to make sure people are observing the laws.
Cmdr. Brian Seastone of the University of Arizona Police Department said those laws will be enforced if officers are in the right place at the right time. Otherwise, officers are simply too busy assisting other calls.
This means the task of enforcing and educating students on pedestrian and bicycle laws is left up to Parking and Transportation Services.
PTS officers patrol the campus daily. Chuck Hammel, a bicycle safety officer for PTS, said the response he receives after first contacting offenders is not always pleasant, but for the most part people are very cooperative.
He said that although he and his partners have the authority to issue citations, he normally lets people go with a warning.
"Most of the students on bikes think of the rules when they used to ride bikes as kids," he said.
The rules on campus are actually much more stringent.
"The minute you hop on that seat, you are considered a motor vehicle and have to follow the rules of the road," Hammel said.
He said he would only issue citations to those who have been forewarned or who have blocked areas used by the handicapped.
Holland said the Second Street corridor is just one of many congested intersections on campus while up to 50,000 people are in transit to work or school on campus each day.
Hammel monitored pedestrian traffic as he stood in front of the Architecture building - where a professor was killed a decade ago after being hit by a bicyclist.
The professor died after being hit by a bicyclist traveling at high speed towards the North Olive Street tunnel.
Hammel said it was the professor's death that prompted officials at Risk Management to require bicyclists to walk their bikes in this area.
Yesterday, three bicyclists quickly hopped to their feet upon seeing Hammel, but he still warned them.
He said although students are normally irate when they are stopped, he tells them the story of why it is unlawful to ride a bike through the underpass.
"If there's anyone on campus who are the activists for bicyclists, it's us," Hammel said.
He said UAPD has discussed restricting up to 90 percent of the campus to bicyclists because of construction. He said PTS fought to still allow bicycle traffic on campus as long as they follow the rules.
"It's just like drivers seeing an (Arizona Department of Public Safety) car checking speed on I-10," said Gary Thomson, associate director of PTS. "Once drivers know they're out of the speed trap, they speed back up."