Another loss for women's hoops?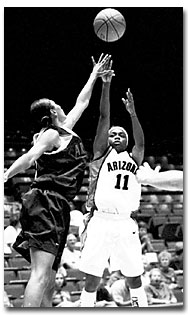 DAVID HARDEN
UA freshman guard Dee-Dee Wheeler attempts a shot against another Wildcat player last night during the team's annual Red-Blue Game in McKale Center.
By Lindsey Manroel
---
ARIZONA DAILY WILDCAT
Wednesday October 31, 2001
Freshman injured in Red/Blue Game
Last night's Red-Blue Game showed just how shallow the Arizona women's basketball team is.
An already-thin Wildcat team may have lost freshman guard Katrina Lindner to a knee injury she suffered with 4:08 remaining in the first half of last night's match.
Although the Wildcats are unsure of Lindner's status for the remainder of the season, head coach Joan Bonvicini said the freshman was expected to see playing time and her presence would be missed.
"She's a very good player and is very quick and we're going to miss not having her," Bonvicini said. "The other kids are just going to have to carry that load."
Lindner's injury is one of many pre-season blows that the Wildcats have already suffered.
Arizona lost sophomore guard Jenn Chesney to an ACL injury during preseason workouts.
Chesney - who started in six games last year and averaged 1.2 points and 1.2 rebounds per game - will redshirt this season.
The Wildcats' first loss came earlier this year when sophomore guard Veranda James departed from the team for personal reasons, and the absence of transfer Mandakova Clark from last night's game may indicate her Wildcat career may have ended before it started.
Despite their recent losses, the Wildcats gave fans a glimpse of what to expect from the regular season - a more aggressive defense and a fast, attacking offense.
"You're going to see us play hard and we're very quick," Bonvicini said. "You're going to see a difference in our defense (as fans) cheer us on to victory."
Senior forward Elizabeth Pickney lead the red team to a 78-64 win over team blue.
Pickney recorded 26 points and shot 9-of-17 from the field and went 7-for-9 at the free-throw line.
With the regular season approaching, Pickney was critical of her performance.
"I could have shot a lot better," Pickney said. "I missed a lot of shots and some decisions I made could have been a lot better."
Senior LaKeisha Taylor dominated in the center for team Red.
In 28 minutes, Taylor accumulated 14 points, two assists and two blocks.
Taylor - one of only two seniors on the squad - is going to play a key role and provide her leadership skills in the backcourt.
It was freshman Dee-Dee Wheeler that surprised Bonvicini as she helped lead the red team at guard.
Wheeler shot 2-3 from the field and recorded seven points and two assists.
Wheeler is expected to see an abundance of playing time this season, Bonvicini said.
Former Wildcat Tatum Brown lead team blue - comprised of mostly bench and practice-squad players - with 15 points while practice players Michael Perkins and David Ballecorsa contributed with 12 and 10 points respectively.
With the absence of Lindner still up in the air, Chesney's injury and James' departure, the Wildcats may be down in players, but said not to count them out for the regular season.
"A lot of people are just going to have to step it up," junior guard Julie Brase said.
After seeing the team perform last night, Bonvicini stated her team's top goal.
"We are going to the NCAA tournament," she said.
The Wildcats play their first exhibition on Monday night.
UA will take on Team Concept, an AAU club out of Portland, Oregon at 7 p.m. in McKale Center.