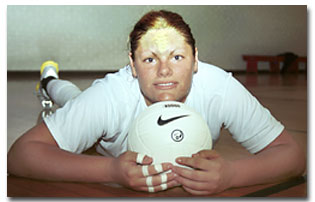 KRISTIN ELVES
UA junior outside hitter Shannon Torregrosa takes a break after practice yesterday in Bear Down Gym. After being suspended earlier in the year by head coach Dave Rubio, Torregrosa had the two best games of her career against USC and UCLA last week, and was named the National Player of the Week.
By Brian Penso
---
ARIZONA DAILY WILDCAT
Wednesday October 31, 2001
Shannon Torregrosa emerges as one of the top players in the country
Collegiate athletics often involve the maturation process of the participants. For UA junior outside hitter Shannon Torregrosa, this season has proven to be a first-hand experience of that process.
Three weeks ago, she was suspended for one game by head coach Dave Rubio for what Rubio considered conduct detrimental to the team. It was unclear if the coach had given up on the player on whom he said the Wildcats' season would depend.
Torregrosa, a native of San Diego, entered the 2001 season as the team's starting outside hitter, replacing departed senior Allison Napier, who Rubio called the best hitter he has ever coached.
In her first two years at Arizona, Torregrosa played sparingly. She mostly sat on the bench and observed Napier's play, knowing that she would one day be Napier's successor.
Rubio said that from the minute he recruited Torregrosa, he knew she had the potential to be one of the best hitters in the nation.
However, things did not go according to plan.
Torregrosa started slowly this season. She was better known for her attack errors - a glaring stat - than being second on the team in kills.
"We have to live and die with the play of Shannon," Rubio said. "She is a young player who is getting used to being a full-time player, and she is going through the learning process. If we want to do special things this season, we are going to need Shannon to play well."
Rubio publicly questioned whether she was committed to improving her play and helping the team, so he thought the best way to get that message across would be to suspend her.
While the suspension lasted only one game, it served as a wake-up call for the junior.
"I think Shannon's commitment is no longer in question," senior outside hitter Jill Talbot said. "No one is worried about her. She realized by being suspended that what she has on our team is too important for her to take those risks again. All we have to do is believe in her."
Torregrosa's play improved slightly, but Rubio was displeased with her effort in the Wildcats' victory over Washington last month in McKale.
Arizona led the Huskies 2-0, but Washington staged a dramatic comeback to push the match to a fifth game. UA held on to defeat the Huskies 3-2.
Rubio said he was upset that Torregrosa seemed to stop playing once UA was up 2-0.
Since then, she has been a force to be reckoned with.
"Shannon is one of my best friends, and I know what she is capable of doing," junior middle blocker Stefani Saragosa said. "When she is on, no one can touch her. When she struggles, she struggles hard, but when she is on, she is on."
Her resurgence was best felt in the Wildcats recent sweep of No. 5 USC and No. 8 UCLA.
Torregrosa scorched the Bruins and Trojans with 35 kills on a .418 average hitting percentage.
In the two contests, Torregrosa averaged 5.83 kills, two digs and one block per game.
Torregrosa's efforts put her in the national spotlight this week, as she was named the AVCA National Player of the Week, the first honor received by any UA volleyball player.
Torregrosa also became the 16th Wildcat to be named Pacific-10 Conference Player of the Week.
"I am so impressed in Shannon's play the past couple weeks," Rubio said. "She played great against the L.A. schools. The true test for her will be if she can play at that level against lesser competition. It is real easy to get up for a team like USC, but we will see if she can play that way this weekend against ASU."
Currently, Torregrosa averages 4.05 kills per game and 4.89 total points per game, which are both good for fifth in the Pac-10.
Torregrosa is also fifth in the Pac-10 with a .42 service-ace-per-game average.
Torregrosa credits the success she has had to the continual support from senior All-American setter Dana Burkholder.
"Dana tells me that when I am struggling, she is still going to set me because I am a go-to player," Torregrosa said. "It gives me confidence that she still has faith in me."
Torregrosa said that Rubio has continued to push her in practice, and she has begun to understand the importance of proper preparation.
"Dave is pushing me to the limits in practice," Torregrosa said. "I know now that I have to show up for work every day or he will get on me again. I finally realize how important it is to play just as hard in practice as in the game."
Since Torregrosa's return, the Wildcats (15-3 overall, 10-3 Pac-10) are 7-1. More importantly, Burkholder said Arizona is finally coming together as a team.
"She has given everything she has to our team since her return," Burkholder said. "As a result, our team bond is getting tighter and tighter."
The Wildcats are currently No. 4 in the nation.
Even opposing coaches have taken notice to the improvement of Torregrosa.
"They have to have her or they can't win," USC head coach Mick Haley said. "They won't win if she does not get off and play well. They have to have that. Talbot and Rutledge are real good, but they will lose if Shannon is not on top of her game."