Bittersweet Salmon marinates in 'beer bucket,' migrates to Tucson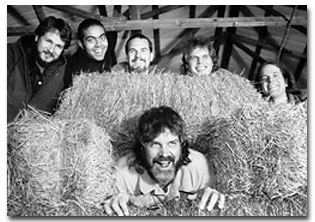 Photo courtesy of Leftover Salmon
Touring "slamgrass" band Leftover Salmon plays the Rialto Theatre tonight. The majority of the group's scheduled performances have been cancelled due to last month's discovery of banjoist Mark Vann's melanoma. Vann is in the top row, second from the right.
By Kevin Smith
---
ARIZONA DAILY WILDCAT
Wednesday October 31, 2001
If it isn't one thing, its always another.
The 11-year veteran Colorado "slamgrass" band Leftover Salmon comes to the Rialto Theatre tonight for a Mardi Gras-themed Halloween bash.
For the band, however, the gig is now a select date in what should have been the tail end of an extensive East Coast tour. Recently the band was forced to cancel most of its tour, and tonight's show will only be its second in a month described as challenging, at best.
Hard times hit the band a month ago when banjoist Mark Vann was diagnosed with melanoma a form of skin cancer usually associated with a change in the size, shape, color or feel of a pre-existing mole. Vann decided to sit out the rest of the tour to undergo chemotherapy.
Leftover Salmon canceled performance dates from Oct. 11- 27 to support Vann during his illness.
"It's a real eye opener," vocalist Vince Herman said. "It's harder than hell right now. Maybe a little too much excess of reality for us."
But now comes the moment the band sees its purpose.
"It's really hard until you get on stage," Herman said. "Once you get on stage, it all makes sense. When you are sitting around thinking too much is when it's not so great. Playing live shows is a source of great strength for us."
Another source of hope for the band is the response from the audience at its shows.
"They've been great," Herman said. "We're really feeling the love and support in helping us get through this time. It really helps."
Venue promoters offered the band nothing but positive understanding in light of its plight.
"Everyone has just given love and support to the band," Ariel Hayatt, the band's publicist, said.
Leftover Salmon plans three more tour dates following tonight's gig, including a return to Arizona in Scottsdale.
"We haven't been through the West Coast in a while, so we just wanted to make a quick trip and then go back and hang out with Mark," Herman said. "The Rialto has always been fun, though."
Salmon will host various guest performers for the remainder of the tour to help cover Vann's absence. Renowned bluegrass musician Tony Furtado is scheduled to perform at tonight's gig.
"We are just going to try and carry on until (Vann) gets better," Herman said. "We've got a bunch of different people to fill in until then."
Salmon fans may wonder about the future of the band in light of the recent diagnosis, but Herman insists that the show will go on.
"Salmon always migrate," Herman said. "Don't worry - we'll keep it going in one form or another."
And with tonight's show falling on All Hollow's Eve, Herman has a message for Salmon fans attending the show tonight.
"Get ready for some wild American roots music," Herman said. "Bring your costumes. It's time to get whacked. Time to get out of that desert sand and into a beer bucket."
Tonight's all-ages show at the Rialto Theatre starts at 8. Tickets are $12 in advance and $15 at the door. Thoughts, stories, prayers and jokes can be sent to Mark Vann through bert@leftoversalmon.com, or to P.O. Box 393, Nederland, CO 80466. Donations to help Vann with medical expenses can also be sent to the address listed.