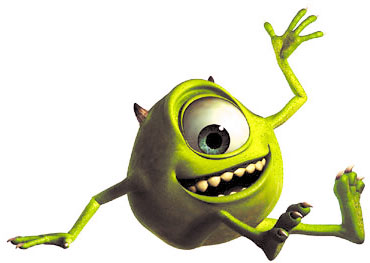 Billy Crystal is the voice of the one-eyed monster Mike Wazowski in the film "Monsters Inc." The flick opens Friday.
By Justine Pechuzal
---
ARIZONA DAILY WILDCAT
Wednesday October 31, 2001
MUSIC
Shannon McNally Jukebox Sparrows (Capital)
Cypress Hill TBA (Columbia)
Elvis Costello Blood and Chocolate (Rhino/Warner Archives)
Kiss Box Set (Universal)
Morrissey The Best of Morrissey (Rhino/Warner Archives)
Her Space Holiday Maniac Expressive (Tiger Style)
Dead Can Dance Dead Can Dance Box (Rhino/Warner Archives)
Merle Haggard Roots Vol.1 (Epitaph)
The Deadlines Out on the Street (Tooth and Nail)
David Dondero Shooting at the Sun With a Water Gun (Future Farmer)
---
FILMS
Domestic Disturbance (Paramount)
Life as a House (Winkler)
Monsters, Inc. (Pixar)
The One (Revolution)
---
VIDEOS
Shrek (Dreamworks)
Baby Boy (Columbia)
Legally Blonde (MGM)
The Golden Bowl (Lions Gate)
Things Behind the Sun (Behind the Sun)
---
EVENTS & CONCERTS
The one and only Ozzy Osbourne lands in Tucson with Rob Zombie for a Halloween concert tonight at the Tucson Convention Center. Call 321-1000 for more information.
The Shelter Cocktail Lounge, that strange-looking concrete barricade at 4155 E. Grant Road., plays host to a Halloween bash tonight from 9 p.m. to 1 a.m. The lounge offers drinks galore for $2.50, including Stoli cocktails, Beck's Oktoberfest and bubbly sparkling wine. Cheers!
For either a barrel of monkeys or bellyful of laughs, check out the free Ambidextrous Armada comedy show tonight at 8. Catch the action at Hillel's lower level, and call 331-2109 for more information.
For those too old to trick-or-treat, try taking a hike - in costume or not - at Sabino Canyon. The Sabino Starry Night Hike is a 7.5-mile round-trip jaunt in the desert on Halloween Eve. Look out for werewolves.
Everybody knows you watch the soaps. Stop denying it and attend the visiting filmmakers program featuring Royal Miller, an associate writer for "As the World Turns," "All My Children," "Port Charles" and "The City." Miller will share his intimate knowledge of backstabbing, separated-at-birth-twins and other crazy soap folks Thursday at 11 a.m. in the Harvill building, room 107.
Skrappy's, 201 E. Broadway Blvd., is the place to go to hear Word War III MC fights tomorrow, a battle among eight of Tucson's hottest MC's. Also featured are performances by Red Dirt Specimenz and "The Undeniable" Choke Hold Records. Price is $7 at the door for all ages, and doors open at 9 p.m.
Hip-hop group De La Soul will rock the house at the Rialto Theatre Friday. Call 740-0126 for more information about the all-ages show.
Ooooo! Always wanted to see customized sugar skulls? Visit the Tohono Chul Park Friday for the Dia de los Muertos exhibition, including the traditional skulls and altars. Call 745-6455 for more information.
The Beat Daddy's, a band with Southern rockin' blues and soulful attitude, plays Nimbus Brewing Co., 3850 E. 44th St., Friday at 9 p.m. Tickets can be purchased online; contact 745-9175 for more information.
Calling all attention-starved persons - casting for the latest "The Real World" and "Road Rules" series will take place Saturday from 10 a.m. to 5 p.m. at Tempe's Acme Roadhouse Bar & Grill in Phoenix. Producers are looking for "characters from real life" between the ages of 18-24 with a recent photo.