Ridge emphasizes terrorism warning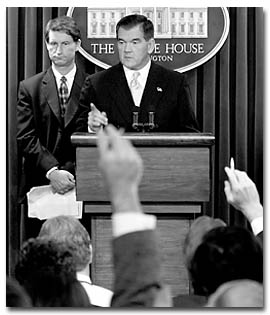 Associated Press
Director of Homeland Security Tom Ridge, along with Dr. Pat Meehan of the Centers for Disease Control and Prevention, left, answers questions at the White House yesterday in Washington. Ridge spoke about a new terrorism alert, similar to one issued a few weeks ago warning that new attacks in the United States were expected.
By Associated Press
---
ARIZONA DAILY WILDCAT
Wednesday October 31, 2001
WASHINGTON - The FBI issued its latest nationwide terrorist alert following
"the convergence of information from credible sources," Homeland Security Director Tom Ridge said yesterday about material deemed related to Osama bin Laden or his al-Qaida network.
At a White House news conference, Ridge said Americans should be on alert at the same time they continue to go about their normal lives. "America has to continue to be America," he said.
Ridge spoke as officials disclosed that Vice President Dick Cheney had been taken to an undisclosed secure location Monday night and remained there yesterday in order to safeguard the continuity of government in the event of an attack on President Bush.
Attorney General John Ashcroft said Monday that the warning was issued following receipt of intelligence that terrorists may attack U.S. interests. Officials said members of bin Laden's network could be plotting attacks in retaliation for the U.S.-led bombing of Afghanistan.
At his news conference, Ridge provided little by way of elaboration.
The announcement was made because the "decibel level was louder "in routine intelligence information, suggesting an attack. It was just the convergence of credible sources that occasioned the alert, more than usual, he said.
Asked about the quality of the information, he replied, "Credibility we leave to the experts, but I think you can fairly assume that the experts view this tied in, this information somehow related to al-Qaida or bin Laden."
Like Ridge, White House spokesman Ari Fleischer sought to prepare the public for a new lifestyle in a terrorist age. "This is what has been called the new normalcy," he said. "It's fair to say that until the war on terrorism is brought to a successful conclusion, ... this is going to be the case in our country."
As on Oct. 11, when the FBI issued a similar warning, Ashcroft tried to walk a fine line between giving the public prompt and necessary warnings and not causing panic.
The alert "gives people a basis for continuing to live their lives the way they would otherwise live them, with this elevated sense of alertness or vigilance," Ashcroft told a news conference.
FBI Director Robert Mueller said the Oct. 11 warning may have helped avert an attack. Ashcroft said the absence of an attack should not lull people "into a false sense of indifference."
"It's important for the American people to understand that these (alerts) are to be taken seriously," said Ashcroft, who canceled plans to travel Monday to Toronto to address a conference of police chiefs.
Officials said the warning was based in part on intelligence that bin Laden's al-Qaida network may be agitating to strike again in the aftermath of the Afghan bombings by U.S. and British forces.
Ashcroft said 18,000 law enforcement agencies were advised to go on the highest alert. Federal agencies, meanwhile, were increasing security, and immigration authorities were boosting their efforts to keep suspected terrorists from coming onto U.S. soil.
Authorities have arrested or detained over 1,000 people in connection with the terrorism investigation, including 180 detained for immigration violations.
The alert came as investigators continued to search for the source of the anthrax that has killed three people and infected dozens of others on the East Coast.
So far scientists have not matched the anthrax mailed from New Jersey with any samples of anthrax available in the United States, a source speaking on condition of anonymity said.
Investigators suspect that a single person, perhaps a deranged U.S. resident with a biochemistry background, may be behind the attacks.
Officials have ruled out the presence of the additive bentonite, which could make the spores spread more easily through the air. The absence of bentonite suggests Iraq was not the source of the bacteria, said Greg Poland, a professor at Mayo Clinic who advised the U.S. military on biological threats. Iraq used aluminum, a key ingredient in bentonite, to make anthrax more lethal, he said.
But the anthrax found in a letter to Senate Majority Leader Tom Daschle included silica, a crystal commonly used as a drying agent to control clumping in pharmaceuticals. Experts said the presence of silica suggests that whoever sent the anthrax wanted it to float in the air so people would inhale it.
The new warning came as jumpy Americans prepared to celebrate Halloween.
Stories circulating on the Internet warned about possible attacks on the children's holiday.
Justice Department spokeswoman Mindy Tucker said authorities had received no specific information about a Halloween attack.
The alert follows the enactment Friday of a new anti-terrorism law that provides prosecutors with intelligence files on suspected terrorists and gives them greater surveillance powers. Tucker said the Justice Department received information about the possibility of an attack on Monday, but she wouldn't comment on whether information gleaned from intelligence files or wiretaps pointed to new attacks.