Thursday November 8, 2001

Cardinal come to town on a roll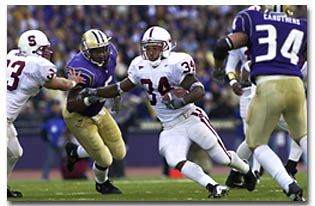 Associated Press
Brian Allen
Stanford running back
Before the season started, it seemed Stanford was nowhere on the national radar. After finishing with a .500 record in the Pacific 10 Conference and a 5-6 record overall, few were expecting the Cardinal to be among the best teams in the conference.
That all changed when Stanford knocked off Oregon and UCLA in consecutive weeks, propelling them to the top of the conference standings.
Returning 16 starters from last year's squad, the No. 16 Cardinal (5-2, 4-2 Pac-10) are one of the most experienced teams in the Pac-10. They're also one of the most balanced.
As a team, Stanford ranks second in scoring offense, second in rushing offense, first in run defense, fourth in passing offense, third in total offense, and first in punt return yardage.
Many attribute the consistency and balance of the team to head coach Tyrone Willingham, in his seventh year at the helm in a place fans call "The Farm" - Palo Alto, Calif.
"They're very well-coached," UA head coach John Mackovic said. "I have watched just about every one of their games - defensively, I've not watched their offense - and I salute Tyrone Willingham, because what I do see is a team that plays very hard, completely within the rules.
"If I had a son playing football, I would say, 'yeah, I like the way those guys do things.'"
"Stanford is a great team and they've been improving all year long," UA senior quarterback Jason Johnson said. "You look at the teams they beat, and how fundamentally sound they are, you know they're going to be very well coached and they're going to come ready to play."
Stanford's readiness this weekend will be tested. Junior running back Kerry Carter, who suffered a separated shoulder during last weekend's loss to Washington, will miss Saturday's contest.
Stanford may be more equipped than other teams in the conference to deal with the loss, since they feature a two-back system that saw Carter split carries with senior running back Brian Allen. The two had combined to average 191.1 yards per game on the ground this season.
Willingham said the increased number of carries may actually motivate Allen.
"You do not want to see anybody leave the lineup, but both Kerry and Brian would love to have the opportunity to put their hands on the ball more," Willingham said. "From one standpoint, you don't want to see your teammate not in the lineup, but at the same time somebody gets five more carries and maybe they want to do something from those five carries. So that may be exciting and energizing for Brian.
"When you play this style of football, it is going to be physical and aggressive, so you are going to lose some along the way," he said. "We have to do what some football teams do this time of year - you have to suck it up and the next guy in line has to step it up and play great football."
One injured player - senior quarterback Randy Fasani, who was the starter until his injury three weeks ago against Oregon - has been practicing this week and may be available to play, Willingham said.
"Randy is progressing very well and we were just watching him day-to-day to see where his progress is going to and his relation to being ready for this ballgame," Willingham said.
In Fasani's place, sophomore quarterback Chris Lewis has stepped up and led the team to a 2-1 record. He has also impressed Stanford faithful by leading the Cardinal to come-from-behind wins off the bench, a feat he performed against Oregon after Fasani was knocked out of the game. In the second half of that game, Lewis threw for 161 yards and two touchdowns in the second half to lead Stanford to a 49-42 win.
The defense is also coming into the game with some injuries, most notably to senior cornerback Ryan Fernandez, defensive end Austin Lee and senior strong safety Simba Hodari. Hodari went down in last week's game against Washington, and had to be carried off the field on a stretcher.
However, Mackovic said he expects senior inside linebacker Coy Wire and senior free safety Tank Williams to cause problems for the Arizona offense.
"I wish I had (Wire) on my team, I like him. He's a real live wire," he said. "Tank Williams is another good player - a really good player."