Seniors leave on sour note

Tuesday, November 13, 2001

UA loses homecoming game, 51-37, to Stanford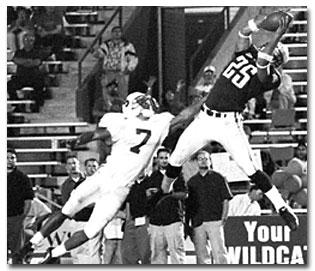 JON HELGASON/Arizona Daily Wildcat
In his last home game for the Wildcats, UA senior wide receiver Malosi Leonard catches a touchdown pass from freshman quarterback John Rattay against Stanford Saturday at Arizona Stadium.
So much for a bowl game.
For the third straight season, the Arizona football team will not play in a bowl game after getting embarrassed for three quarters at home against No. 16 Stanford and losing 51-37 Saturday night.
"Hell no, we haven't played (an) entire 60 minutes all season," UA junior wide receiver Bobby Wade said. "I don't remember a game where we have. Putting 60 minutes together for this Wildcat football team has almost been impossible all year. It's probably our No. 1 problem."
The Wildcats (4-6 overall, 1-6 Pacific 10 Conference) were unable to protect the ball, committing five turnovers, four on fumbles. Stanford (6-2 overall, 5-2 Pac-10) scored 20 points off those turnovers, providing them with the cushion they needed for victory after Arizona rallied late.
The late comeback made the game interesting for the remaining fans from the 40,632 that showed up, but it was the first three quarters that put UA in a deep hole.
Even when the Wildcats - who have now lost seven straight Pac-10 games in Arizona Stadium - moved the ball against one of the conference's best defensive teams, most series ended with a turnover.
The biggest blunder came in the third quarter while the Wildcats were driving for a score at the Stanford 5-yard line in an attempt to cut into the Cardinal's 33-16 lead.
As UA junior quarterback Jason Johnson dropped back to pass, he was sacked by senior safety Tank Williams and fumbled. Stanford senior linebacker Coy Wire picked up the ball and waltzed 89 yards for a touchdown.
It was just a sign of things to come as the Cardinal poured it on in the second and third quarters.
Again in the third quarter, Stanford tailback Kenneth Tolon appeared to be tackled for a loss but managed to break tackles and run 71 yards for a touchdown.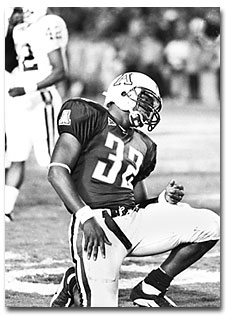 ERIC M. JUKELEVICS/Arizona Daily Wildcat
UA sophomore running Clarence Farmer back gets back on his feet after a run against Stanford Saturday at Arizona Stadium. Farmer and the Wildcats lost the game, 51-37, ending their chances of making a bowl game this season.
The Cardinal run defense, the Pac-10's top unit, held the Wildcats to only 44 rushing yards through three quarters.
Conversely, Stanford gained 211 on the ground over the same span.
Seniors Brian Allen and Tolon set new career highs with 143 and 100 yards rushing, respectively.
"Tolon did some great things," Willingham said. "We're continually seeking opportunities to keep him growing."
They weren't the only two Cardinal players who hurt UA. Sophomore wide receiver Teyo Johnson had eight catches, a career high, for 116 yards and two touchdowns.
The 6-foot-7 receiver, who also plays for the Stanford basketball team, outsized the tallest cornerback in the UA defensive secondary by 8 inches.
Johnson caught two touchdown passes, including a fade pass over the head of sophomore cornerback Michael Jolivette for a 3-yard score.
"Michael played that play great," UA head coach John Mackovic said. "It was just a perfect pass."
Stanford sophomore quarterback Chris Lewis, playing in place of the injured Randy Fasani the last three weeks, showed improvement from the last time he played the Wildcats. In his first career start last season, the Cardinal lost 17-3 to UA.
"Last year was last year," Lewis said. "I had a lot of good quality time. It made me feel more relaxed on the field. It's fun out there."
UA jumped out to an early 10-3 lead after Johnson connected with sophomore tailback Clarence Farmer for a 43-yard touchdown catch. It was Farmer's first touchdown reception in his career and also his longest career catch.
That was the only time the Wildcats saw the end zone during the next two quarters.
But they made it interesting late. After trailing 48-16 at the end of the third quarter, the Wildcats put together 21 unanswered points in the fourth, and got the ball back down two touchdowns with about 4 minutes to play. But the Wildcats couldn't convert on their final drive.
Farmer scored on 20- and 66-yard touchdown runs in the fourth quarter, putting him over 1,000 yards rushing on the season.
"(The fourth quarter) showed that we don't quit," Farmer said. "This team never gave up."
Johnson was pulled in the middle of the third quarter - after going 14 of 28 for 260 yards and one interception - for freshman John Rattay, who played mostly against the Cardinal's second-team defense.
Rattay finished the night completing 11 of 22 passes for 155 yards and one touchdown pass, a strike to senior wide receiver Malosi Leonard late in the fourth quarter.
"This is not how I wanted to end my career here," said Leonard, who also blocked a punt in the fourth quarter. "It's hard not coming out with the win."