NAU president resigns amid allegations of personal misconduct
By Associated Press
---
ARIZONA DAILY WILDCAT

Tuesday, November 13, 2001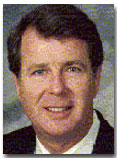 Owen F. Cargol
FLAGSTAFF - Northern Arizona University president Owen F. Cargol has resigned over allegations of personal misconduct.
Cargol resigned Saturday shortly after hearing the allegations, said Kay McKay, president of the Arizona Board of Regents.
McKay declined to discuss the allegations because she said the law prevents her from publicly speaking about a personnel matter.
The Arizona Republic reported yesterday that the allegation involved sexual harrassment.
McKay said the allegation was not brought by a student.
''At this point we don't even know all the information,'' McKay said Sunday.
Cargol cited ''personal and health reasons'' in resigning, according to McKay. Cargol has an unlisted telephone number and could not be reached for comment.
University spokesman David Ortiz declined to comment Sunday.
Regents scheduled a meeting yesterday in Phoenix to discuss Cargol's resignation.
The university's provost, John Haeger, is now the acting university president.
McKay said Haeger will likely be named the university's new president.
''The board has complete confidence in John Haeger's leadership abilities,'' McKay said.
Haeger was a runner-up in the search that resulted in Cargol's hiring.
Haeger told the Arizona Daily Sun that his first task, if permanently appointed as president, would be to bring unity to the campus.
Faculty members were stunned by Cargol's resignation.
''You could have given me $1,000 to come up with the most bizarre story, and I would have never come up with this,'' said Bob Yowell, chairman of the university's faculty senate.
Cargol, 50, was chosen May 24 to replace Clara M. Lovett, who did not seek renewal of her contract.
He formerly was president of the University of Maine at Augusta after serving as president of Cleveland State College from 1993 to 1996.
Cargol previously was vice president for academic affairs at Highline College in Seattle.
McKay said it would be up to the board to decide on severance pay and benefits, if any.
Cargol's salary was $180,000 a year, plus annual allowances of $47,000 for housing and $8,400 for a personal vehicle.