Wednesday November 21, 2001

UA and ASU renew their yearly rivalry in Tempe Friday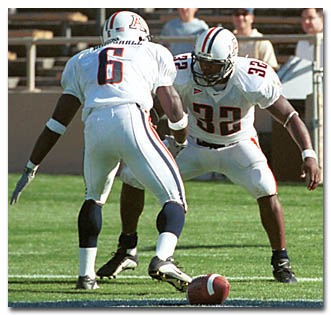 #32 Clarence Farmer and #6 Brandon Marshall
When the Wildcats take the field Friday afternoon in Tempe against Arizona State, they will not be playing for a chance at a bowl game.
They will not be playing for a winning record.
What they will be playing for might be just as important, however - pride.
"This is our super bowl," UA senior strong safety Brandon Nash said.
It will be the 75th meeting between the two intrastate rivals, and Arizona comes into the game having lost the last two matchups.
"One of our big pushes with our seniors was the fact that the legacy they have a chance to leave with our football program is three straight wins over Arizona," ASU head coach Dirk Koetter said. "That's a lot to be said for those guys, and that's something for them to go out on."
Arizona State (4-6 overall, 1-6 Pac-10) still has a slim hope of making a bowl game if it defeats UA and wins its final game against UCLA Dec. 1. This will be the first time in 11 seasons it has not played the Wildcats in the season finale.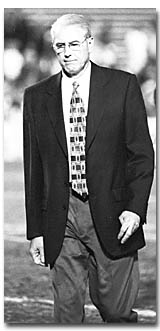 UA head football coach John Mackovick
However, both Koetter and UA head coach John Mackovic seemed more concerned about the X's and O's than the rivalry's history - likely a testament to the fact that both are spending their first years calling plays from their respective sidelines.
On the field, Arizona's biggest concern will be ASU's deceptive defense, which has given opponents fits with its odd-man blitzing schemes and eight-man fronts - an ironic twist, considering the Wildcats are generally known for their inventive defensive attacks.
"They play a true eight-man defense," Mackovic said. "With eight men on the line, that gives you eight potential rushers all of the time. It will be different for us in terms of getting ready for their defense. But, we've seen people attack their defense, and they have seen people attack our defense. I expect to see from them the best of what other people have done against us when we get on the field."
UA junior quarterback Jason Johnson said he realizes the Sun Devils' plan may put more pressure on the Wildcats' passing game.
"A big strength with ASU's defense is they can come up and stop the run with those extra guys," Johnson said. "Maybe play-action would work, but I'm sure they'll be looking for that."
Leading the defensive unit for ASU is sophomore defensive end Terrell Suggs, who is tied for second in the nation with 10 sacks and has a team-leading 17 tackles for a loss. Suggs combines size (6-foot-3, 232 pounds) and speed (he was a high school tailback who ran for 2,274 yards in his prep career), something that the UA offensive line will have to combat if they want to protect Johnson.
The junior quarterback will likely be lobbying a little more than usual, as he's three touchdowns away from tying the record for most touchdowns thrown in a season by a UA quarterback. The record currently belongs to Marc Reed, who threw 20 touchdowns in 1966.
Johnson's not the only one with ties to the UA record book, however. ASU sophomore quarterback Jeff Krohn is the son of Jim Krohn, a four-year letterman for the Wildcats from 1976-1979.
"(Jeff) is so much like his dad," said Mackovic, who coached Jim when Mackovic was an offensive coordinator at UA."I recruited his dad, signed him to a letter of intent on Christmas Eve (in 1976), and he started the third game of the season."
Jeff has been questionable since he left ASU's last game against Washington State with a sore shoulder. However, Koetter said Jeff will be able to go Friday.
"He's a real shifty quarterback," Nash said. "We're going to put some hits on him early."
When healthy, Krohn has scorched opposing defenses, completing 55 percent of his passes for 1,890 yards and 19 touchdowns.
The Phoenix native will look to sophomore wide receiver Shaun McDonald, who has caught 10 touchdown passes this season.
"I wasn't a believer that (McDonald) could consistently make plays on balls where he had to leave his feet as often as he's done this year," Koetter said. "When you see a guy do it once or twice in a game, you think, 'OK was that just a lucky catch. He's done it every game.'"
The Wildcats will counter with a Phoenix native of their own - junior wide receiver Bobby Wade.
Wade has been on a tear recently, catching 21 passes for 333 yards in the last three games.
"Bobby just goes hard all of the time," Mackovic said. "The reason he wasn't getting as many balls in the first part of the season was because we were trying to develop a total offense that everyone is a part of. He just did what he was supposed to do, and he never said a word. We weren't trying to go away from him."
Koetter said he is concerned with an Arizona offense that not only features Wade and Johnson, but also the Pac-10's second-leading rusher, sophomore Clarence Farmer.
"I think Arizona has pretty darn good skill people," Koetter said. "As I've told other people, I think Farmer is among the top running backs in the conference. I voted for him first-team all-Pac-10. That's how good of a player I think he is. Anytime you have a very dangerous running back, that makes the focal point of your defense shutting down that running game."