Volleyball Notes: Trip to Illinois might strain academics

Wednesday November 28, 2001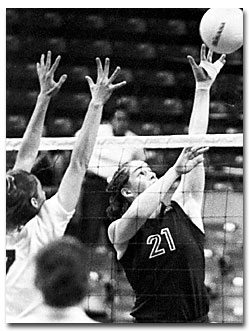 JON HELGASON/Arizona Daily Wildcat
UA senior setter Dana Burkholder attempts a lob against an opponent earlier this season in McKale Center. The Wildcats head to Illinois this weekend for the first round of the NCAA Tournament and may have to miss the final two weeks of the school because of the postseason.
Playing the first rounds of the 2001 NCAA Tournament on the road may cause UA women's volleyball players to miss the final two weeks of school.
In order to help Wildcat players tie up loose ends in their classes, head coach David Rubio gave the team a day off Monday.
"I felt that it was in the best interest to give them a day off," Rubio said. "They have to think to themselves how they are going to leave in good standing with all of their teachers. I want them to feel that they have balance and confidence in their academics."
However, this should not be a problem for Arizona, which had four players - outside hitter Jill Talbot, setter Dana Burkholder, middle blocker Erin Sebbas, all seniors, and junior outside hitter Lisa Rutledge - named to the Pacific 10 Conference's All-Academic Team.
Talbot and Rutledge were named to the second team, and Burkholder and Sebbas received honorable mentions.
In order to be eligible for the academic team, a student-athlete must accumulate a minimum 3.0 grade point average while being a starter or major contributor in action on the court.
"It was cool to get the award," Talbot, a sociology major, said. "It shows that we are not just here to play volleyball but to get a degree."
Rubio said coaches walk a fine line when addressing which is more important - practice or study - and that he hopes the success his players earned in the classroom is a reflection on a coach making the right decision.
"Ultimately, they are here to get an education," Rubio said. "It is really important to make sure that they realize what is more important. I think that everyone realizes they are here to get an education."
---
The No. 5 Wildcats leave today for Illinois to begin a run at their first ever Final Four appearance.
One question facing the Wildcats is the health of junior outside hitter Shannon Torregrosa, who suffered an ankle sprain in UA's victory over Denver last Friday.
"The doctor said that she is much better," Rubio said. "She is making good progress, and we will know on Thursday if she will be able to suit up for our first match."
Torregrosa is second on the team in kills with a 3.92 per game average. Her physical play will be irreplaceable, according to Rubio.
However, Rubio said he has confidence in sophomore outside hitter Christina Frost, who will take her spot in the starting rotation if Torregrosa is unavailable.
"The loss of a starter effects everyone," junior middle blocker Stefani Saragosa said. "Christina is an amazing player who works hard every day in practice. We all have complete and utter faith in her ability."
So far this season, Frost has averaged 1.23 kills per game, but Burkholder said that Frost should provide more of a defensive presence than Torregrosa.