Santa Clarita band finds 'filthy inspiration'

Wednesday November 28, 2001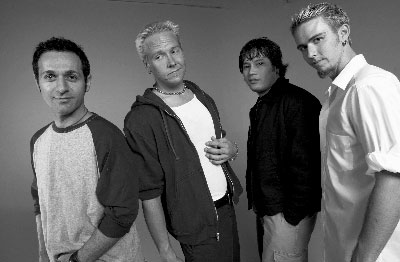 Photo courtesy of B9
Musicians Fred Mayelian, Jeremy Sanden, Matt Comeione and Bret Dubin of the punk-pop group B9 set their sights on Tucson tonight. The band will perform at 7 Black Cats, 260 E. Congress St., at 9:30 p.m.
B9's approach to music is a little different than other pop-punk bands of the moment. They don't want to give any "fat lips" (Sum 41) or even encourage people to "stay together for the kids" (Blink 182). No, B9 wants to give its audience inspired songs about dirty laundry.
"If I write a good song about a dirty sock, then (the song) is going to be about a dirty sock," vocalist/rhythm guitarist Jeremy Sanden said of his varied inspirations.
B9 consists of Sanden, Fred Mayelian on lead guitar, Matt Comeione on bass and Bret Dubin on the drums.
The band hails from Santa Clarita, a town just outside Los Angeles.
"I'd like (the music) to take me out of my town, as far as I can go," Mayelian said. "I want to get the music around."
The band respects the fact that a lot of current pop-punk bands are getting heavy rotation on MTV but is hesitant to label that type of music punk.
"Punk was a movement." Sandon said. "Now it is a trend, a fad."
Mayelian said he thinks current punk bands face a paradox when it comes to getting their music heard.
"There is this whole traditional punk thing," Mayelian said. "The people that grew up with the Sex Pistols are all vets. Now, punk has become mainstream. If you're too pop, you're commercial. If you're too heavy, you don't go anywhere. It's a Catch-22. In the end, it's about what you want to do."
Mayelian does not fear potential ridicule faced by "sellout" punk bands like Green Day.
"If (Green Day) stuck the way they were, they would never be who they are," Mayelian said. "I have no fear. Where your music takes you, you go."
Although the group's public relations department currently labels B9 as a "punk-pop" band, the group sees a clearer vision of what type of music it really turns out.
"(We play) rock 'n' roll," Sanden said. "As a musician, what else can you call it?"
Upbeat rhythms and feelings are what this band is all about, even if its lyrics might not always match its mood.
"I think our music sounds happy, but a lot of it is dreary if you just read the lyrics," Mayelian said.
Sandon insists the band has a purpose, keeping a smiling face despite its sometimes dark themes.
"We try to keep things lighthearted," Sandon said. "We have messages."
These messages caught the attention of the promoters of last year's Warped Tour, where B9 was selected to headline the locals-only stage when the show came to the Los Angeles Coliseum last June.
"We totally forgot that we submitted a tape (to the Warped Tour)," Sandon said. "So much so, that we actually bought tickets to the show to go. They (Warped Tour promoters) called us and said, 'you've been selected to play at the show and as the headlining band.' We got to hang out backstage with our heroes like Pennywise and Good Charlotte. Hopefully next year, we'll get on the whole tour."
Currently, however, Mayelian sees success very simply.
"We just want a piece of the pie and to be invited to the party," Mayelian said.
B9 plays tonight at 7 Black Cats, 260 East Congress St. Set time is 9:30 p.m. with a $3 cover at the door. The show is for ages 21 and over. For more information, call 670-9202.