Wednesday November 28, 2001

Masters student Vanessa Salaz is a Met winner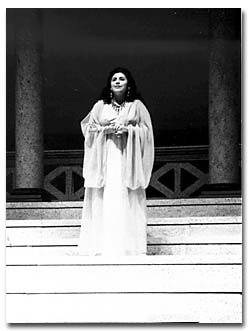 Photo courtesy of Carol Petrozello
Vanessa Salaz plays the role of Poppea in Monteverdi's opera, "The Coronation of Poppea," for the Arizona Opera at the University of Arizona. Salaz recently took second place in the Metropolitan Opera's Western Region competition held in Los Angeles.
There's a new name in the opera biz, and she's local, too.
Vanessa Salaz, a master's-degree-seeking student in vocal performance at the University of Arizona, won second place and a $3,500 prize in the Metropolitan Opera's Western Region auditions in Los Angeles Oct. 27.
Salaz, a soprano, was one of eight finalists who advanced in the regional competition after winning the Arizona district competition in Phoenix Oct. 20.
Winning in competitions is always a great feeling but is not to be expected all the time, Salaz said.
"For every award you get, there's about 10 rejections," she said.
Salaz attributes her success so far to working hard, being in the right place at the right time and to her mentor, UA voice professor Charles Roe.
"You have to prepare and work so when the time comes, you're ready," Salaz said. "You have to have perspective and take criticism well - don't get caught up in the little things."
From her time as an undergraduate student at UA through the present, she has studied with Roe.
"I owe him everything," Salaz said. "I believe God put the right things in front of me to get me where I am."
Roe discovered Salaz while she was attending Santa Rita High School in Tucson. She was performing in a solo and ensemble competition, that Roe was judging. He asked what her future plans were and got her involved in music at the university.
"I heard this beautiful musicality and thought, 'she has the makings of special talent,'" Roe said. "There's no question she's going to have a career."
Salaz has already accumulated a plethora of singing experience, including a performance at Carnegie Hall as part of winning a NATSAA (National Association of Teachers of Singing Artist Award competition) award.
Salaz has made the Western region competition for the second time, has been a guest artist in recitals in Iowa, Arkansas, California and Mexico and has been a finalist in the Houston and San Francisco opera auditions.
Salaz has competed on an international level as well. She was a semi-finalist in the Concert Artists Guild in March and went to Italy for the summer as part of the International Vocal Arts Institute program.
"The faculty was world-class," Salaz said. "You had people from the top opera companies in the world there teaching."
One of the teachers enjoyed Salaz's rendition of Russian styling so much that she invited Salaz to perform in Russia in April 2002.
Success on the local level has been abundant for Salaz. She has won the Arizona district competition three times (1997, 1998 and 2001) and has taken several university and statewide competitions over the years. She has been a soloist with the Tucson Symphony Orchestra and made her debut with the Arizona Opera this year with "Rigoletta." She will perform in "Madame Butterfly" in the spring.
When she's not busy winning awards and competitions, she sings at two churches in Tucson, is involved in Arizona Choir on campus, and she student teaches in a program called "Opening the Mind Through the Arts" - a program designed to use music as a tool to meet core curriculum for elementary-age students.