U.S. envoys tour Israel with Sharon
By Associated Press
---
ARIZONA DAILY WILDCAT

Wednesday November 28, 2001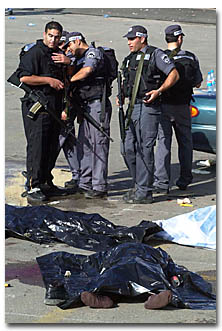 Associated Press
Israeli police stand near the bodies of Palestinian gunmen killed after they opened fire in the center of the northern Israeli town of Afula, yesterday. Two Israelis and two Palestinian gunmen were killed and dozens wounded in the attack, which came as U.S. mediators held a second day of meetings with Israeli officials.
AFULA, Israel - Two Palestinians sprayed a bus station and open-air market with gunfire yesterday, killing two Israelis and wounding 14 others before being shot to death. Two U.S. envoys witnessed the immediate aftermath of the attack from the air, flying over Afula in a helicopter tour narrated by Israel's prime minister.
Later, a Palestinian attacker in Gaza fired at a car and killed an Israeli woman, the military said. Two other Israelis were wounded. Israeli soldiers shot and killed
the gunman, Palestinian security and Israeli military sources said.
One of the American mediators, retired Marine Corps Gen. Anthony Zinni, said the bloodshed underscored the need for a truce after 14 months of fighting. "A cease-fire is what we need to get to something more comprehensive and lasting," he said.
Two Palestinian groups - Islamic Jihad and the Al Aqsa Brigades linked to Palestinian leader Yasser Arafat's Fatah movement - claimed responsibility for what they said was a joint attack to avenge the targeted killings of Palestinians.
The gunmen were from the Jenin refugee camp in the West Bank, about 10 miles south of Afula. They slipped into Israel, reportedly in a stolen car with Israeli
plates, despite a strict security closure of the West Bank and of Jenin in particular.
Only a few hours earlier, Israeli troops had withdrawn from areas in Jenin, the last of six West Bank towns Israel partly occupied for several weeks.
At about 11:30 a.m., the gunmen opened fire near the central bus station in Afula. Uri Kalman, a shop owner, said the assailants fired methodically at a traffic light.
"They were firing at the cars, one car, then another car, then another, time after time. There were five cars, all facing different ways. They had nowhere to turn," Kalman told Israel TV's Channel Two.
The assailants then ran to the nearby open-air market.
"They shot the first person (they encountered) in the head," witness Mordechai Cohen told Israel Radio.
One woman approached a gunman from behind and tried to attack him, but he turned around and shot her, said another woman who gave her name as Iris. "It was shocking. It's a mess," she said.
After several minutes, the assailants were cornered by security forces and killed in a firefight, said police spokesman Gil Kleiman. A reserve soldier, Menashe Mekonnen, said he shot one of the gunmen in the head. "He shot again, and then he fell," Mekonnen said.
A 23-year-old man and a 25-year-old woman were killed, and 14 other Israelis were wounded, including four who were in serious condition, hospital officials said. Many of the wounded were given first aid while lying on the pavement. One woman, apparently a passer-by, wiped the face of a wounded Israeli soldier.
In a video issued by Islamic Jihad and the Al Aqsa Brigades showing the gunmen sitting in a room in front of political banners, one of the assailants, identified as Mustafa Abu Srieh of Islamic Jihad, said, "We hope our people will continue in the path of holy war."
The second attacker, Abdel Karim Abu Nafa, 20, was a Palestinian policeman and Fatah activist. His participation was seen as a serious challenge to Arafat, whose Palestinian Authority has urged Palestinians not to carry out attacks in revenge for Israel's killing last week of Mahmoud Abu Hanoud, a Hamas activist accused by Israel of masterminding bombings that killed scores of Israelis.
Fatah gunmen have targeted Israelis in the West Bank and Gaza Strip in recent months but have largely refrained from carrying out attacks in Israel.
Yesterday's shooting came on the first full day of a new truce mission by Zinni and Assistant Secretary of State William Burns. After the helicopter tour with Sharon, meant to illustrate Israel's security concerns, the envoys met with Israeli Foreign Minister Shimon Peres. Yesterday, Burns and Zinni held talks with Arafat.
After several failed truce efforts, the mediators face a hard task. Both sides say they are willing to commit to a cease-fire, but each accuses the other of being the aggressor who must take the first step. "There is no compromising with terrorism," Sharon said yesterday. "As long as there is terrorism, we can't reach the peace agreement we all want."
Sharon insists on a week without Palestinian attacks before Israel carries out its obligations under a U.S.-backed truce brokered earlier this year, including pulling back troops, lifting blockades of Palestinian communities and halting Israeli settlement activity in the West Bank and Gaza Strip.