Philippine Muslim rebels flee base
By Associated Press
---
ARIZONA DAILY WILDCAT

Wednesday November 28, 2001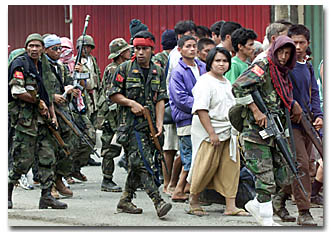 Associated Press
Moro National Liberation Front members, who are loyal to arrested leader Nur Misuari, escort about 50 hostages to join their comrades at a hilly park in Zamboanga City yesterday, in southern Philippines. Residents living near the sprawling satellite office of Misuari in Cabatangan, in the outskirts of Zamboanga, were taken hostage by the MNLF following the firefight, which also involved plane bombers.
ZAMBOANGA, Philippines - Under heavy aerial bombardment, armed Muslim rebels fled a key base in the southern Philippines yesterday, dragging along dozens of terrified men, women and children roped together as human shields.
After hours of intense fighting, the military said 25 guerrillas and one soldier were dead and an unknown number of others, including civilians, were wounded. The rebels freed 21 hostages early this morning, but held onto 60 others, negotiators said.
The rebels are part of a separatist Muslim militia that fought the government until a peace deal was struck five years ago. Fighting broke out again last week, with the government claiming the local governor - a former rebel leader - was upset over losing power.
The captives, snatched from their homes in the middle of the night, sobbed and
shouted for troops not to shoot as they were herded out of the compound at about noon Tuesday and made to walk slowly down the road. A guerrilla pointed a gun at the head of a young girl.
Soldiers slowly backed down the road, separated from the hostages and rebels by an armored personnel carrier with its guns trained on the group. The rebels then reached a hilly park, where they occupied a house.
Military spokesman Gen. Edilberto Adan said about 80 rebels were holding hostages there, while another group remained holed up at a rebel base, where attacks by bombers and helicopter gunships continued as dusk fell.
Negotiations to try to end the standoff dragged on past midnight in a house near the hilly park outside Zamboanga. At one point, two buses and an armored personnel carrier were brought in, and a group of 21 hostages, including women and children, quietly filed out to the flash of cameras.
"We are the first batch," said Jose Mari Bue, a local newspaper editor, who along with his wife and six children was among the hostages.
"This is the greatest feeling I've had," an ecstatic Adelaida Regino told The Associated Press by cellular telephone from the bus. "I thank all those who negotiated for our release."
Lt. Gen. Roy Cimatu, head of the military's Southern Command, said the freed captives would be given medical checkups and allowed to return home.
It was unclear what sort of deal had been worked out, but Cimatu said that after all the hostages were released, the rebels would be taken into custody.
The wrenchingly poor southern Philippines is home to the predominantly Roman Catholic country's 5-million-strong Muslim minority and has repeatedly been the site of bloody conflict for decades.
Yesterday's crisis came a day after elections for a successor to Gov. Nur Misuari.
The rebels, loyal to Misuari, belong to a faction of a separatist Muslim group, the Moro National Liberation Front, which fought the government until a peace deal was struck five years ago.
Misuari - who lost the MNLF leadership earlier this year and was about to lose the governor's post - has been charged with rebellion for allegedly fomenting an attack last week on an army base to disrupt elections for his successor. He was arrested Saturday in neighboring Malaysia as he fled the Philippines, and his followers had been told Monday to leave the government complex without their weapons. Most refused.
Military spokesman Edilberto Adan said Tuesday's rebellion was led by Misuari's nephew, Julhambri.
Florita Orquito, a 43-year-old hostage who escaped, told reporters the rebels moved quietly into neighborhoods near the heavily fortified 150-acre government complex where they had been allowed to have a base and took hostages before gunfire and explosions began rocking the city of 750,000 residents.
The military, embarrassed by its inability to wipe out the more extremist Muslim separatist group Abu Sayyaf, which has been holding hostages on nearby Basilan island for six months, hurriedly poured troops, armored personnel carriers, helicopter gunships and bombers to the area. The air force sent F-5 fighter jets, and the coast guard patrolled the coast to keep away possible rebel reinforcements.
But the rebels defiantly showed off their hostages, at one point sending out Bue, the newspaper editor, to relay a demand for safe passage and pick up bread and water.
"They want to exit and escape," Bue said. "If they are harmed, our families will also be harmed."
While the government expressed concern for the captives, Defense Secretary Angelo Reyes said it could be a positive development in the long run.
"We are able to deliver the message 'If you go against the government, the government will have to defend itself,'" he said. "We cannot be perpetually babying these people if they are violating the law."