Eternally branded by 'God'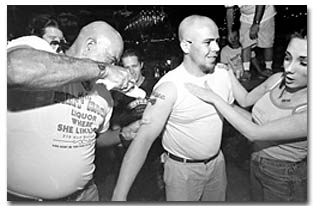 ERIC M. JUKELEVICS/Arizona Daily Wildcat
Bartender Ian Cruikshank (center) won the raffle at local bar The Meet Rack, 210 E. Drachman St., to be the 500th person branded with the face of Jim Anderson - or God as he prefers to be called (left) - while Tucsonan Stephanie Butler holds Cruikshank's arm. Shortly after, Michelle LeRoy (not pictured) became number 501.
By Amy Maltby
---
ARIZONA DAILY WILDCAT
Tuesday August 28, 2001 |
Arizona Daily Wildcat
Local bar brands 500th customer
Those who have never been to the Meet Rack might be scared off by its welcome sign: "Something to offend everyone."
However, Ian Cruikshank, a 23-year-old bartender at the Rack, didn't even flinch - at least he didn't while being branded by "God."
That's right - branded, by God.
The Meet Rack, 210 W. Drachman St., a local bar made famous for it's controversial practice of branding its patrons with the face of its manager, made Cruikshank the 500th person to be branded within its doors.
"It wasn't that bad," said Cruikshank, although he admitted he was nervous before he went under the iron. "It kills the nerves after the initial contact."
Jim Anderson, whose daughter owns the bar, nicknamed himself "God" after becoming an ordained minister by the Universal Life Church.
While no license is legally required to perform the branding, "God" does not allow anyone else to pick up the iron.
"Me only. Period," he said.
And to think, the entire tradition began with the branding of a little ground beef.
In 1976, Anderson was running "Someplace Else," a former Tucson bar.
"Jim would brand his burgers," said Jesse Ramirez, 24, also a Meet Rack bartender.
One day, Anderson's friend, retired Marine Col. Buck Swannack, commented that Anderson was the one who should be branded. Anderson took the challenge, the brand being a replica of Anderson's own face.
Customers soon asked to be branded as well.
To permanently burn Anderson's cheery countenance on your body costs $5.
Those brave enough to wear the brand receive 50 cents off food and drinks at the Meet Rack for life.
Amber Orman, a UA history senior, frequents the Meet Rack once or twice a week with her husband, Micah, a student at Pima Community College. Orman admits she would never get branded herself, but said, "I've seen it done before."
Neither of the Ormans are appalled by the bar's unusual ritual. Amber compared the decision to be branded with that of being tattooed.
"It's a personal choice," said Orman.
The choice is easy for waitress Stephanie Butler, 22. Butler said the pain is enough to keep her from being branded.
"I'm a baby!" she said.
The staff at the Meet Rack also regales newcomers with Anderson's long list of life achievements. Besides being an ordained minister, Anderson was once both a boxer and a boxing promoter, representing names like Sugar Ray Leonard and George Foreman.
Anderson was also a three-time Tucson mayoral candidate. Accompanying his "Godly" nickname are self-made key chains with the words "I'll ruin your life" printed above his photo.
Unconfirmed research done by employees of the bar indicates that Anderson may have performed more documented human brandings than anyone in the world.
All with only one complaint.
Currently, Anderson and the Meet Rack are involved in a lawsuit filed against Anderson and the bar by a woman who claims the brand was administered while she was intoxicated and restrained.
Marcy Morgan filed a $60,000 claim against Anderson and the bar this summer. Morgan said that two of the Meet Rack's employees physically restrained her while another applied the brand. Morgan claims she was too intoxicated to consent.
Anderson denies the claim. He said it is Meet Rack policy never to brand a person who is intoxicated.
"I tell them to come back later and I'll happily do it," he said.
Orman verified that she has seen Anderson turn away people appearing too drunk to be branded.
Morgan claims the branding left her with a severe infection. Anderson said that he instructs patrons on basic care of a brand wound. He said that branding is similar to cauterization, and if a person does not "pick at" the wound, no infections should occur.
Though the suit was originally filed in Pima County, the People's Court got wind of the case and contacted Anderson and Morgan to settle the case on television.
"I love the publicity," said Anderson.
Reports of the lawsuit traveled around the world, being aired on CNN and FOX news. Anderson said he has heard of his story being heard as far away as Japan, Mexico and Australia.
Anderson also said he doesn't mind the publicity because he feels he has done nothing wrong. He said he remembers the night and the woman in question and maintains that she was not branded against her will.
"She came back and got 12 drinks on her discount," said Anderson.
Asked if he has had any other complaints from branded customers, Anderson said, "Never, never, never."
Ormon defended the Meet Rack.
"How many people have gotten a tattoo and regretted it the next day?" she asked.
Cruikshank has no regrets about his new brand.
"This place, these people - this is my bar, and now it always will be."