International student killed on bike

Monday December 3, 2001

Avid bicyclist remembered for his kind heart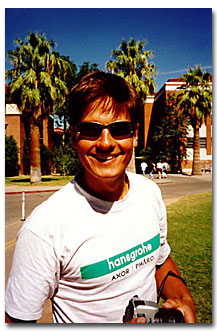 Mathias Mohr
Mathias Mohr, an international physics student from Germany, died Thursday after his bicycle was hit by a van. He was 22.
Mohr had been riding on Avra Valley Road in Marana when Judith Darling, 55, of Avra Valley, struck him as she veered into the bike lane. An investigation is underway, but no citations have been issued in the accident, said Tom Bailey, a spokesman for the Pima County Sheriff's Department.
Mohr, who had been in Tucson since August, had planned to stay for the remainder of the school year. He also wanted to study for his master's degree in America, said Gina Nutini, his roommate and a women's studies and communication junior.
Mohr, a professional triathlete, loved Tucson's biker-friendly atmosphere, and finished 50th out of nearly 2,900 riders in the 111-mile El Tour de Tucson bike race Nov. 17.
"There's hardly a day he didn't ride a bike," said Chris Wright, Mohr's host-mother.
She remembered that Mohr once left her house and rode around the entire Santa Catalina mountain range in less than eight hours and that he loved to help children change bike tires when they didn't know how.
Nutini said that although she didn't know him before they were paired as roommates, he had such a big heart that it was easy for them to become friends quickly.
"He was a great guy," she said. "He would accept anyone for who they are."
His friend Manon Parise, a junior studying French literature, said he never turned people away when they needed something.
"He was always willing to help anybody that needed help in anything," she said.
A mass will be held in Mohr's memory tomorrow at 5:15 p.m. at the St. Thomas More Catholic Newman Center, 1615 E. Second St.